LFC legend, Sir Kenny Dalglish MBE, visited Anfield Stadium's vaccine satellite on Saturday afternoon ahead of the Merseyside Derby Day match to thank those involved in recent vaccinations.
Those involved in the vaccination process included GPs, vaccinators, and volunteers.
It has been two weeks since the world-famous football ground joined a growing list of GP-led Covid-19 vaccination locations opening across the city.
Sir Kenny paid a socially distanced visit to the site to show his support for the vaccination programme and encourage scousers to get vaccinated.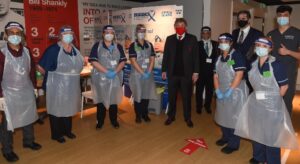 He said: "I really wanted to visit the vaccine centre at Anfield to personally thank some of the incredible NHS staff and volunteers who have been tirelessly working to help protect people from this virus.
''Football plays such an important role in the city of Liverpool, so it feels right that there's a vaccination site here at Anfield, helping to reach out to people who live in the local communities around it.
"I have already had my Covid-19 vaccination, and I want to encourage everyone else to get one when invited too.
''Having the vaccine is the best way to protect you and your loved ones, and help get life back to normal.
''Also, the more of us who are protected, the sooner we can get back on the terraces to cheer on our team – whether you're Red or Blue."
Liverpool has 14 GP led vaccination sites now operating in total, linked to all 85 of the city's GP practices.
Those invited to receive their vaccination at Anfield will be people registered with a GP practice linked to the groups of practices based in the area who are operating the site.
Dr Fiona Lemmens, Chair of NHS Liverpool Clinical Commissioning Group (CCG) said: "We were delighted to have Sir Kenny visiting staff at our Anfield vaccination site this weekend.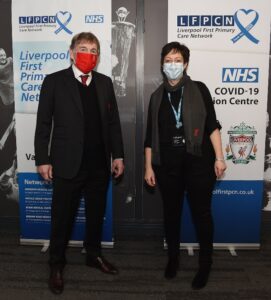 "The delivery of the vaccination programme in Liverpool is going really well, and it's such a huge team effort, with everyone from GPs and vaccinators, to admin staff, stewards and volunteers all playing a hugely important role."
To date, more than 100,000 people have been vaccinated across the city of Liverpool, including:
The vast majority of over 70s,
Care home residents, health and social care staff,
Those who are clinically extremely vulnerable.
Anyone in one of these groups who still hasn't had a vaccine is encouraged to get in touch with NHS as soon as possible to arrange this. You can do this by booking an appointment here or by calling 119 anytime between 7am-11pm seven days a week free of charge.