by Sam Tallon
Liverpool based production company Shone Productions has announced that spectacular magic show, X-treme Magic, is set to reopen the M&S Bank Arena.
The show, which will take place in The Auditorium on May 22, promises to thrill audiences with death-defying stunts, illusions and escapology in an event hosted by master illusionist Richard Cadell.
Producer, James Shone said: "I am delighted to be bringing the very first live show of the year to The Auditorium at the M&S Arena.
"Audiences have missed out on so many live experiences over the last 12 months, so it's a real privilege that we will be presenting shows once lockdown restrictions are eased."
X-treme Magic will be one of three live shows coming to the Auditorium this summer.
After making its debut in Las Vegas, X-treme Magic assembles some of the UK's finest magicians including Pete Firman, Elizabeth Best and Craig Christian.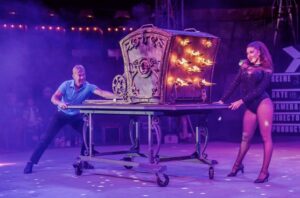 The show will treat audiences to illusions such as making a motorcycle appear from nowhere, Russian roulette with sticks of Dynamite and an escape from a burning rope whilst hung upside down in a straight jacket.
Mr Shone was keen to dispel any fears over Covid-19 safety to make audiences feel as relaxed as possible.
"We want to reassure theatregoers that social distancing and safety measures will be in place to ensure Covid-secure performances – audience, cast and crew safety is paramount."
Tickets are on sale now through the M&S Arena website: www.mandsbankarena.com
You can watch a trailer for the show here: