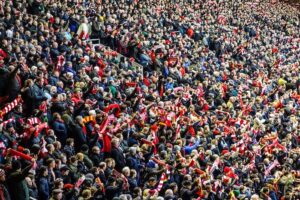 Liverpool fans have condemned UEFA's report on the Champions League Final havoc as an 'empty gesture'.
Reds fans have waited eight months for answers from the football governing body on how and why the horrific events they experienced in May last year unfolded.
Prior to the Merseyside derby last night, UEFA released their report concluding that they and French authorities were to blame for the chaos at the 2022 Champions League final, claiming 'primary responsibility'.
Congestion outside of the Stade de France in Paris, caused bodily harm to supporters – some being tear gassed by the local authorities.
Liverpool fans were originally the ones wrongly blamed for the disarray, accused of a massive fake ticket scheme.
However, the report calls those accusations made by the local authorities a 'reprehensible' attempt to shift the blame.
'the apology is far too late'
Liverpool FC have since released a statement in response to this: "Liverpool supporters were unfairly and wrongly blamed for the chaotic scenes to divert attention from the real organisational failures.
"Even more concerning is the realisation that for families, friends and survivors of Hillsborough, Paris has only exacerbated their suffering. Our thoughts go out to all our fans who have suffered as a result of Paris."
Fans are not satisfied by the football organisation's poor attempt of an apology and more action is needed for the situation to be taken seriously.
Callum Scott, a Liverpool fan who attended the game, said: "I think the apology is far too late and is an empty apology until people responsible are sacked, so it's not enough and is an empty gesture made worse by them leaking the report before the derby to try and bury it when people were distracted by the game."
Law firm Leigh Day are investigating a group claim on behalf of hundreds of injured and traumatised Liverpool fans claiming compensation from the traumatic experience which should have been one of the best moments a fan could experience.
Clare Campbell and Jill Patterson, partners at Leigh Day, said: "After such a damning report, UEFA needs to take responsibility for the significant part it played in the chaos that unfolded at last season's Champion's League final and recompense the fans who have had to deal with the after-effects.
"It is promising to hear that UEFA are considering a special refund scheme, but it's important to understand that what is required here is more than a ticket refund. This is about accountability, learning lessons for the future and ensuring that fans who have been injured and traumatised receive proper compensation for what they've endured."
One of the clients that the law firm represent, who did not wish to be named, said: "UEFA didn't just ruin the day, for a lot of people, they ruined lives. To say they dealt with it poorly is an understatement. It shouldn't have been allowed to happen."
A part of UEFA's 158 page report included 21 recommendations which included a number of procedural and technical issues and some relate to the treatment of fans.
For example: "Supporters arriving in the host city without access to match tickets should never be treated as inherently a public order problem but facilitated as tourists who are travelling to be a part of the festival the authorities are seeking to promote."
Steve Rotheram, the Mayor of the Liverpool City Region, also released a statement in response to the leaked report, stating that maybe now football fans' safety will be prioritised instead of financial driven decisions.
Featured image (c) Chris Bertram