Merseyside Coffee specialists are gearing up to make big changes after Covid-19 impacted their business.
Crosby Coffee on Oxford Road is an independent business that started in co-owner Jack's kitchen at his mum's house many years ago only to become one of the best known coffee hotspots in the area. 
The shop which remained open for business during the majority of the pandemic said they made many adaptations every couple of weeks to remain as safe as possible.
The online store boomed during the first few months of the pandemic as locals rushed to support the much-loved shop.
Jack said: "Community response has been amazing, over each lockdown we have seen incredible support from the local residents."
The roastery owned by Crosby Coffee also supplies coffee to over 200 other locations nationwide and they had to adapt to an increase of demand whilst keeping everyone safe.
Now Crosby Coffee is making some welcome changes to improve the site and allow more space for customers to relax in and more importantly, allow them to extend their coffee range.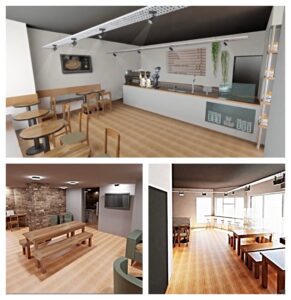 Jack said the work has been a long time coming but one thing after another delayed the works, including Covid-19.
"We joked that in a few years we would have enough business to open a separate roastery space and create the shop space we first wanted. Took us 3 and a bit years but we got there!"
The shops new look will feature a new 'service hatch' for take-out only, self-service water taps and a new area for a retail shelf that will showcase produce from local businesses and creators.
The new space allowing an extended range is very exciting for Jack.
He said: "We spent some time with our shop managers in Berlins a couple of years ago developing what we thought was a perfect coffee culture menu that would be suitable for Liverpool. With our current bar setup and space we are limited to what we can actually offer, but once the new bar is in place we will be offering alternative brew methods such as Aero press and v60 filters."
The independent company which has been no stranger to change over the past 12 months also gave support to other local businesses they love.
Jack said: "Obviously the hospitality sector is suffering massively at the minute and some of my food and drink favourites include Treehouse restaurant in Crosby, Neptune brewery in Maghull, Bold St Coffee in Liverpool, Satterthwaites in Crosby, Trap & Hatch in Waterloo and Adam's Apple in Allerton."
It's clear that community and supporting the local culture is important to Jack and his co-creator, Mark, who grew up on the same street. Throughout this renovation, he has made it clear that everything has the customer in mind in order to improve their experience at the shop.
"We share a similar belief in the backbone of our story and in wanting to achieve something of ourselves in our community, for our community… watch this space for even more exciting news this year."
Concept visuals courtesy of The House Architect @thehousearchitect