The situation in Ukraine escalated today to what officials are now calling a "full-scale" Russian invasion.
In the early hours this morning, tanks, missiles and gunfire erupted across Ukraine's cities, including the capital, Kyiv, after President Vladimir Putin announced a "special military operation" to "demilitarise" Russia's neighbours.
Ukrainian civilians have begun to flee.
But here in Liverpool city centre, the feeling this morning is very much one of fear – fear for innocent families and for the possibility of UK involvement.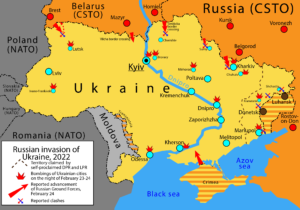 Joe Williams said: "I think something bad is going to happen. Looking at the news this morning, it doesn't look good.
"It's awful because we'll get involved now as well.
"It's just unbelievable", Mr Williams added.
World War Three
Mike Birmingham agreed that another World War seems imminent, but that the UK must do more to stop Putin before the situation escalates with EU involvement.
He said: "I'm a bit concerned with Boris Johnson 'umming and arring'. [He has] put some sanctions in against the Russians but, obviously, not enough.
"And the thing is, we need to stop [Putin] in his tracks because once he takes one place, they'll just take it all.
"Once the Americans get involved then which side do you choose?" He added.
Innocent families
But aside from uncertainty over UK action, many were increasingly concerned over the welfare of Ukrainian civilians.
Shelly Ainsaw said: "I'm so worried for the families and ordinary people. That's what you've got to think about.
"It's alright [Putin] coming around saying 'We're going to go to war' but what about the actual people? The children, the young men, who are going to lose their lives just because he's decided it is war time", Ms Ainsaw added.
Another man, Dec Smith, added: "Is [Putin] going to be another Hitler?"
But for Mr Smith, the cost-of-living crisis presents fresh issues for fuel prices, which could exacerbate once the UK issues further sanctions on Russia.
"What about the economy? We've just been through Covid, what's going to happen now?", Mr Smith said.
Staying positive
Others, however, are less worried.
Charles and Lou said they are trying to stay 'optimistic'.
"There's nothing that us ordinary folk can do about it", Charles said.
"The leaders of the world need to all sit around the table, have a cup of tea, have a few cakes and have a chat about their problems to sort it all out", he added.
UK Prime Minister Boris Johnson said fresh sanctions for Russia will be announced in the House of Commons at 17:00 GMT today.