New figures released by The Official of National Stastics have revealed that a third of UK adults were finding it difficult to afford mortgage or rent payments.  
 These results come as no surprise given that the UK is still facing a 'cost of living crisis', in which, when considering inflation, regular pay fell in real terms over the year by 2.4%. 
An increased demand for food banks
 The current cost of living crisis has increased demands on UK food banks. The most recent Independent Food Aid Network data reports that over 80% of organisations have noticed a surge in first-time users of their services. 
 The increased demand has led over half of the organisations that report to the Independent Food Aid Network saying that should demand continue to rise, they would have to reduce their services or even begin turning people away.  
 In Liverpool alone, there are 23 Trussell Trust foodbanks, which is only around half of the city regions' food banks.  
80% increase of claimants of Universal Credit
On top of this, the 'Sustainable and Affordable Food for Liverpool City Region' report states that there had been an 80% increase in claimants of Universal Credit in the region between January 2020 and January 2022. 
The report also observed that donations to Liverpool foodbanks are failing to meet the unprecedented demand, with the St Andrews Community Network receiving only over half of the food they had to give out in donations for May 2022.  
Liverpool homes at highest risk of food insecurity were low-income households, which was exacerbated by the stay at home rules over COVID-19. 
A representative for the St Andrews Community Network said: "From a Foodbank perspective we're seeing increasing numbers of people asking for support in the form of emergency food with an increase in the number of working people asking for help." 
St Andrews has a 'Community Pantry' scheme which is a member-led model that provides longer term food support where members join a pantry in their local area and pay £3.50 for around £15 worth of food, which includes fruit, vegetables and meat. 
The Pantry Coordinator said "The pantries now have waiting lists for members to join. The figures show that pantry visits by members have increased a lot over the last few months.
"In general, the rising cost-of-living is having a huge impact on the people we support, with people increasingly unable to make ends meet," said a representative of St Andrews. 
Liverpool City Region makes up half of England's top ten 'food deserts'
The Liverpool City Region is home to half of England's top ten 'food deserts' – a food desert is an area that has limited access to affordable and nutritious food – which also makes the region more prone to food insecurity. 
However, statistics published by the Trussell Trust revealed that the number of emergency food supplies they provided in the North West had fallen drastically from 2021-2022. Although these numbers will have been affected by COVID-19.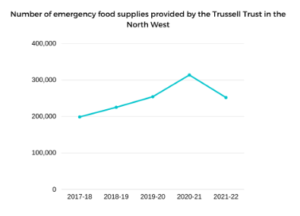 Aside from the spike in food supplies over COVID-19, a steady increase can be observed in the number of food bank users in the area.  
A cut back of donations to food banks
The cost of living crisis has put strain on even middle income families, which has led to a cut back in charitable donations to food banks.  
Despite inflation beginning to ease, increasing costs of rent, fuel poverty and food insecurity leave the city region vulnerable.