UK GPs are among the 'most stressed' and 'least satisfied' an international study has found, particularly in comparison to higher-paying countries. 
 'Stressed and Overworked', a report published by the Health Foundation that included 9,526 GPs across 10 countries found that UK GPs reported 'higher levels of emotional distress' and 'bigger rises in workload' than those of almost all nine other countries.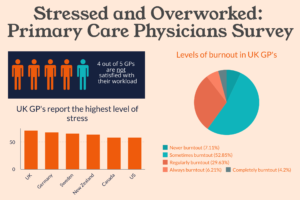 Four out of five UK GPs reported that they are slightly or not at all satisfied with their workload.
 This includes time spent with patients and the gruelling hours speaking with social services, managing prescriptions and writing referrals.  
 "GPs have continuous appointments with patients and we do not have enough time with each patient to get a rewarding feeling from the patient interaction," said trainee GP, Dr Sarah Abed. 
 "Our patient load is ultimately endless, as we are essentially treating the entire population," she said.
 This is supported by the report's findings that 71% of UK GPs found their job to be 'extremely or very stressful'.  
The future of the NHS
 Across all the countries surveyed, UK GPs are among the most likely to stop regularly seeing patients, and the greatest threat to the future of the NHS appears to be the number of GPs reporting increasing stress levels.  
 The number of full-time qualified GPs has fallen in recent years, as more doctors are opting for part time positions.
 "Many GPs work part time, in order to allow more of a work life balance, I would definitely consider that when I complete my training" Dr Abed said. 
 "We [herself and her colleagues] often express worry about becoming a full-time GP and the pressure and responsibilities that come with that. At time I think working in a hospital can be easier." 
 Despite the extensive workload placed on GPs, their access to patient's files is limited, such as recent blood tests, x-rays and scans.
 The Health Foundation report's findings concluded that tackling the issue of GP dissatisfaction means boosting their capacity and reducing workload.  
 The January NHS digital report revealed that one in five GPs under 30 left the profession in the past year.
 This figure poses the risk of an increasing workload for the remaining GPs.   
 The NHS Primary Care Recovery Plan was published in January and promises to recruit the correct workforce for local needs in aims to reduce waiting times and improve patient experience. 
The plan is to be implemented over two years and has been brought on by record demand for NHS services.
NHS reports and privately studies continue to indicate that the majority of the burden on the NHS is being shouldered by GPs.