After the Chancellor announced his mini budget, economists warn a sharp decline in living standards since the 1950s is on the way.
Food banks claim families in Merseyside are already at breaking point – and that the budget does little to ameliorate spiralling costs and soaring inflation.
The Office of Budget Responsibility warned living standards are on track to fall to new lows since records began in the mid-1950s.
This morning, locals in Liverpool city centre said they were concerned as to how ordinary people were going to cope – and it's clear fears are ramping up over the most vulnerable in society.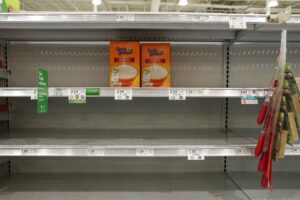 Foodbanks on the rise
Wendy said she is retired and fortunately has savings, but she can still find things difficult.
"I feel sorry for people who are just starting out.
"I know we're coming up to summer, but heating has gone up a lot, council tax has gone up a lot, and then the pension has gone up by something like 0.25% – it's not a lot", she said.
The pensioner said it was concerning to see how many homeless people are sleeping rough on the streets.
But she also highlighted the dramatic increase in demand for foodbanks across the country.
"We've got more foodbanks now than we had during the war.
"To have to have foodbanks in this day and age, it's not good is it?", she added.
Stagnant wages
A couple shopping in the city centre also said they feared for vulnerable people, but also even people in work who will now struggle to make their wages stretch.
Melanie said: "We're just going backwards – we're going back to the 1970s.
"You just have to watch everything.
"We have to watch everything and we both work, but it will get worse", she added.
As a support worker who drives from job to job, Melanie said she was worried the cost of fuel will push her out of work unless wages are increased.
"It's very depressing," she added.
Keith then said: "It's just going to cripple everyone – there's no point putting things up when the average living wage isn't going to meet it".
The couple also dubbed the £200 energy bill rebate an insult – and that more should be done to protect the NHS.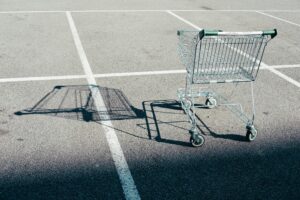 Stick together
Meanwhile, Billie, Bob and Jeff said they felt fortunate that the cost-of-living crisis wasn't as tough for them, but they were sympathetic for the families who are struggling.
Bob said: "It quite clearly is a problem for everybody, but it's a worldwide problem. It's not just us.
"The Government has borrowed so much money over the years, there's only so much [it] can do to help people.
"We will survive.
"Yes, if you're on a very low income, it's a bigger problem. I have a lot of sympathy for those people", Bob added.
"We know it's not good, but it could be worse", Billie said.
Jeff said that his generation have already lived through a period of high inflation and believes that the nation will pull through once again.
However, he said it's undeniable that the pandemic, Brexit and the Russian war in Ukraine is adversely affecting the country.
"It's about how we all work together to get out of it.
"And what I love about Liverpool is that people look after the place.
"So if we sort it out together, we'll be alright", Jeff added.
No good news in the budget
Richard Roberts, the general manager of Wirral Foodbank, said the Chancellor's budget was out of touch with reality.
He said: "The Spring Statement provided no good news for people on the lowest incomes, with benefits increasing by only 3.1% compared to the inflation rate of 6.2% and expected to rise to over 8% later this year.
"Individuals are facing a tsunami – they are experiencing a real cut in their living, with no other options to maximise their income.
"If that is not enough, an increase of 54% in energy costs for those on prepayment meters and default tariffs will result in additional pressures, with many people having to decide between eating or heating.
"We believe that the provision of food should not be the solution to poverty, regardless of how it is distributed.
"It is so important to address the underlying reason for food poverty," Mr Roberts added.