Local community angels, Liverpool in Arms at Night, gather twice a week on the streets of Liverpool to offer a listening ear, a hug, a cup of tea and some homemade cakes for people sleeping rough and struggling.
Usually armed with a generous spread of food – compiled mostly of 'Scouse' – the volunteers of Liverpool in Arms at Night brave the streets, come rain or shine, to clothe, feed and speak to the homeless.
The group started helping rough sleepers almost 18 months ago, and now have a 50-strong army of volunteers.
However, the charity started by happy accident.
Founder, Anneka 'Neeks' Oakes, was a landlady before her pub was shut down.
She fell on hard times herself, but that's not why the charity started.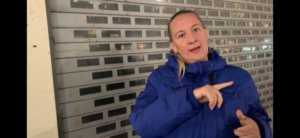 The mother-of-two said it was when she studied a course to train as a bouncer when she met Danny, a homeless man, sat outside.
After speaking to Danny on her lunchbreaks, Neeks was motivated to help and started appealing for donations of sleeping bags, quilts and pot noodles.
"My friend put a post on Facebook and within two or three days, my house was overrun with stuff.
"I was coming back and forth on the bus eight times a day on my own trying to get rid of it", Neeks added.
She said she was then flooded with requests from people offering to come and help.
"And that's basically what happened.
"Before I knew it, people were asking if they could cook.
"People started donating pasta and money. It's just gone from strength to strength", she added.
Rewarding to help
Lyndsey Gallagher, a longstanding volunteer, said she is driven to help by the buzz it gives her.
"It's rewarding – it's sort of addictive. I've been at work since 7 o'clock this morning and then I've [come] straight out here, helping.
"It is addictive when you come out and you see how grateful [rough sleepers] are for what you do.
"It's just lovely being out", Lyndsey added.
Jamie Pinnington used to be homeless himself before Liverpool in Arms at Night helped him to get back on his feet.
Now, he gives back by volunteering.
Jamie said: "[Once] I got back on my feet, they invited me to come along and volunteer.
"I'm made up about it – because I feel good giving back.
"When you're homeless, people just walk past you. [But] we treat them as our brothers and sisters – we don't just call them homeless.
"It also makes me feel good – the way I was a couple of years ago to where I am now, that would not be possible if it weren't for the help of outreach teams," Jamie said, pointing to his fellow volunteers dishing out food.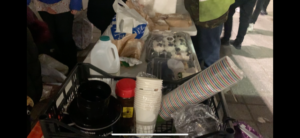 Being a decent human being
But the generosity of this bunch extends beyond the Monday and Friday evenings that they meet.
Cooking, collecting donations, raising money and organising the team is a round-the-clock operation – even though many volunteers juggle full-time jobs.
Neeks said her team keeps busy all week, cooking, picking up clothes and collecting food from groups and people within the community that cook for them.
Youngsters from Employability Solutions, an independent school, and cadets in Hale all provide hot meals and sandwiches for Liverpool in Arms at Night.
But even with their help, Neeks said the operation requires a lot of organisation.
However, despite the demand of the job, Neeks said she couldn't imagine doing anything else.
She said: "People are happy to see us. I don't know how long it's been for them since they had a hug.
"My hug last week might've been the last hug that they got, so I'll go out, I'll give them a hug, and I'll sit and I'll chat with them.
"It's just being a decent human being for me. I've literally grown to love people on the streets.
"I love my job – I think it's the best job in the world and I wouldn't do anything else," Neeks added.
United family spirit
At the heart of this charity's admirable ambition is their commitment to one another – and for their united family spirit.
They even spent Christmas Eve together and staged a campout to raise money.
Lyndsey said: "We did a sleep out not so long ago.
"We slept out all night when the weather was bad, but you were glad when it finished.
"But then when I was home and showered, you just felt so guilty because the next night, the weather was even worse and there was me, moaning to get home," Lyndsey added.
The volunteer, who works as a police officer, said she routinely feels 'guilty' when she's relaxing at home.
"When you don't help, you feel guilty.
"You're at home having a cup of tea and thinking 'I need to be out there, feeding our homeless friends'.
"We've been out Christmas eve, in the cold and rain, bringing Christmas Eve boxes out.
"But it is appreciated by them, so it is worthwhile," Lyndsey said.
Neeks added: "We've got a great team – it's a family."
An extended part of this family must be Dryden, a Royal Mail postman who delivers letters by day and hot meals by night in a converted letters trolley.
"On my days off as a postman, I come round to cities like this.
"My friend is a chef – he cooks the food and I travel and serve it.
"I've been to a lot of cities in the UK now, but I always come back to Liverpool because it's a friendly city," he added.
But why does he do it?
"Why not?", he replied, "I enjoy it. I've got a day off."
"I'm lucky: I've got a house, I've got food in my fridge.
"Not everyone has a house and a fridge so if I can bring a little bit of food – it's no big effort, is it?" Dryden added.
His DIY food cart has been adapted to carry a camping gas stove, and with it he tours across the country giving hot meals.
Glasgow, Cardiff, London, Manchester, Birmingham, Blackpool and Chester are just some of the places Dryden's 'meals on wheels' goes to, and he has his sights set on Belfast and Edinburgh in the future, too.
And although he joked that the trolley can sometimes catch on fire, it meant he and his 15-year-old son, who also came to help, were able to feed up to 142 people in Liverpool city centre on this cold Friday night.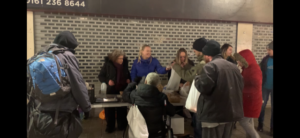 Cost of living and Ukraine refugees
But a lack of social housing, the crushing cost-of-living and ongoing Ukraine crisis presents fresh challenges for the team.
Jamie said that waiting lists for supported accommodation can leave people waiting for months on end on the streets.
And even though the council placed rough sleepers in hotels, hostels and apartments during the pandemic, the charity saw a resurgence of homelessness once the provision came to an end.
Jamie said: "They had the life of luxury for a while, and then [they were] back out in the doorway.
"That must be demoralising", he added.
Neeks said the team are already seeing more families and single mums struggling to survive – and expect more to come their way now that the UK is processing Ukrainian refugees.
"We are expecting a rise with the war, but if we can help, we'll help.
"That's just what we do. That's what we're here for.
"As long as we keep getting donations, we'll keep coming out.
"We'll keep helping", Neeks added.
To donate to Liverpool in Arms at Night, you can contact the team on their Facebook group here.