Liverpudlians of the world, unite! Monday is Global Scouse Day, which gives us the opportunity to celebrate (probably) the best city in the world.
The Scouse Day tradition began with a "scouse supper" held every year on local adventurer Graham Hughes' birthday by his friends.
When he left the country in December 2008, they thought it would be fun to continue it in his absence.
Over the years it has grown to a city-wide event, with the main focus being on the famous dish itself…Scouse!
Many bars, cafes and restaurants in Liverpool will be serving the meal on their menus, some just for the day and some year round.
So, to celebrate Global Scouse Day, find below some of the places serving Scouse across the city.
(Please don't tell me ma though. She always thinks hers is the best!).
Relish
What could be more Scouse than eating our signature dish inside the most famous building in the city?
Relish, a café based inside the Royal Liver Building, will be serving Scouse on the day.
100% of the proceeds for every dish sold will go to the Everton in the Community (EITC) charity.
So, not only will you enjoy a hearty meal but also donate to a worthy cause!
Proudly serving up our homemade Scouse this coming #GlobalScouseDay pic.twitter.com/k8EQCTmH4g

— Relish at the Royal Liver Building (@RelishRlb) February 21, 2022
Maggie Mays
A mainstay on Liverpool's lively Bold Street, Maggie Mays is famous for serving traditional meals, like Scouse.
Being served all year round, it comes with crusty bread and a choice of either beetroot or red cabbage.
Fun fact: Liverpudlian actor Ricky Tomlinson considers it the best Scouse in the city!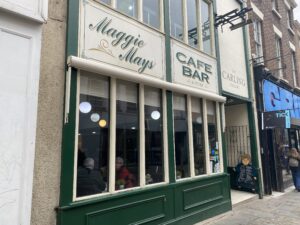 Derek's
On the weekend before Global Scouse Day, Derek's on Allerton Road will be serving Scouse served inside hollowed-out crusty bread.
This is in collaboration with Global Scouse Day organisers, as well as The Plattsville Baklehouse.
A percentage of all Scouse Bowl sales will go directly to the Owen McVeigh Foundation, a charity which aims to create magical memories for children suffering from cancer.
Skaus
Based on Allerton Road, Skaus (see what they did there?) is a Scandinavian-influenced café, which is apt as Scouse has Scandinavian links.
Blind Scouse is also available, which is a vegetarian version.
Soda bread is available for an extra cost, perfect for mopping up the bowl afterwards!
◊ S U N D A Y – S H O U T O U T ◊

Say hello to @skausliverpool! The term 'Scouse' originates from the Scandinavian stew, Skaus, which gained popularity through the ports of Liverpool. These boys have it on their menu and it's absolutely boss!
∙⁠#hundredhousecoffee pic.twitter.com/XZlHBnBIeH

— Hundred House (@HundredHouseCo) February 6, 2022
Homebaked Bakery
Situated right by Anfield Stadium (Sorry, Blues) Homebaked Bakery is a community-owned bakery famous for award winning pies.
One option on the menu is Scouse Pie.
Yes, strictly it's not a piping hot bowl of the good stuff. But will you really complain that your Scouse is encased in baked, golden pastry?!
🔟 days to go till one of our favourite days of the year @GlobalScouseDay!

You just can't beat a good bit of Scouse & it's even better walled by our tasty pastry😍 #GlobalScouseDay #BuyLocal pic.twitter.com/WQ4M2G3ShQ

— Homebaked Bakery (@HomebakedBakery) February 18, 2022
Ma Egerton's Stage Door
Situated behind the Empire Theatre, 'Ma Egerton's' has hosted many famous people in its history, from Frank Sinatra to Amy Winehouse.
Scouse is on the menu every day, made to a traditional recipe and served with warm, crusty bread.
Can you imagine Ol' Blue Eyes tucking into a bowl after a show?
If you feel like making your own Scouse, find below a recipe courtesy of Global Scouse Day organisers!