Barrister and businesswoman Nisha Katona MBE has been installed as the new Chancellor of Liverpool John Moores University.
Speaking during the ceremony at Liverpool's Metropolitan Cathedral, she told the audience how honoured and proud she is to be installed as the sixth Chancellor of the university.
She also makes history by being the first Liverpool John Moores alumni to become Chancellor.
Ms Katona said: "I am Liverpool in my heart and in my home. I am proud of my roots and I am proud to be a graduate from LJMU.
"I look forward to the part I can play as Chancellor of this great university."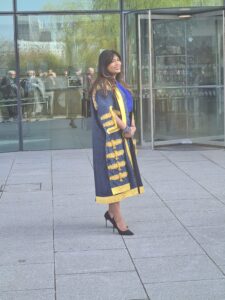 Ms Katona studied Law at Liverpool John Moores University and graduated in 1995.
She went on to become one of the first female Asian barristers and had a successful career in law for almost 20 years.
She left the Bar in 2014 and went on to establish Mowgli, an authentic Indian dining restaurant in Liverpool, which has since been recognised as one of the fastest growing restaurant chains in the country.
Speaking to Merseynewslive after the ceremony, she said it was a no-brainer to accept the role of Chancellor and she hopes to be a role model for the students by using her previous experience as a student at LJMU.
"I was a student here and it's so important to have role models.
"I am really grateful that my foundation came from here so it was an absolute no-brainer. I am so proud to come back and I'm even prouder that I graduated from here above all other places," she said.
When asked if she has any immediate plans as Chancellor, Ms Katona said she wants to help and provide guidance for students to shape their future post university.
"There are just endless possibilities for them [the students], but helping them just slightly craft what that might look like and how you get there, that's my role."
Liverpool John Moores University looks forward to the installation of new Chancellor