A mother and daughter who were both made redundant from their jobs supporting businesses during the pandemic have launched their own new venture.
Gemma Quine and her mother, Gillian Quine, both grew up in Croxteth, Liverpool. The pair spent most of their adult life working at Santander in the department of Business Banking.
While in their banking jobs, Gemma and Gillian saw an empty premises and always talked about it being an ideal location for a café or noodle bar.
Gemma told Merseynewslive: "We both had jobs, so it was I suppose a nice little sort of dream. Then the pandemic happened, we started working from home and then redundancies happened, so my mum got made redundant and then I did shortly after.
"We were working really hard in the pandemic to help businesses, especially my mum, she worked on the bounce back loans, working 12-hour shifts some days to make sure businesses got what they needed.
"To then just be let go and told there's no job for you, was sad."
Gillian, 54, had been working at Santander for 20 years and Gemma, 36, for 14 years.
Once the mother and daughter had been made redundant, they decided to take the plunge and take over the lease of the empty premises.
They took over the lease in July last year and finally opened Q's Kitchen at the end of November.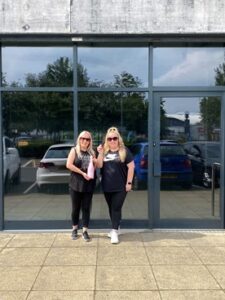 Gemma said: "Now it's open, it's doing well, better than we thought for it being so new.
"We're on a retail park and we're surrounded by the giants, next door to us is Dominos and the other side is Subway and then next door to them is McDonalds, KFC and Nandos.
"We have a lot of repeat customers, which means we're doing something right."
The café serves everything from full English breakfasts, a deli bar, hot snacks, noodle boxes, chicken curry and salt and pepper dishes.
Gemma added: "We knew it was going to be a challenge opening a business by ourselves, but two independent women in business, we thought 'let's do it'.
"Obviously we never ever would've wanted to be made redundant, but I feel like because we'd been there for so long, it was too comfortable, we never would've left, it gave us the push we needed."
Q's Kitchen is located at Stonedale Retail Park.