Futsal, the fast and furious five-a-side alternative to the 'beautiful game', is growing in popularity.
The focus is primarily on technique and creativity with reduced contact. Those who have played as youngsters endorse the game which will greatly benefit all levels of football.
Liverpool lad Jamie Fahey is one of them and he has now published a book – Futsal: The story of an indoor football revolution
After being a ball boy at Everton FC, Jamie Fahey went on to play semi-professionally. Injuries cut short a promising career. He has since become a leading futsal expert and qualified youth coach, having stints with the FA at St. George's Park.
Fahey played endless street football in the urban landscape of 1980s Liverpool – the same streets later graced by Wayne Rooney who is dubbed 'Britain's last true street footballer'.
Injuries prevented Fahey from pursuing a professional career, but that didn't dent his love of the game.
After hearing about it in the 90s Fahey pursued futsal. A version that involves far less contact, but focuses on speed and the technical side of football. He wanted a game with more safety.
He says: "Futsal looks like football, but definitely feels more like basketball!"
He added: "It is far more difficult than regular football, simply because of the pace of the game."
Legendary Brazilian footballer Zico once claimed: "Futsal is the way forward."
What is futsal?
Futsal can best be described as a quicker, more technical version than the UK's beloved five-a-side.
The word itself is a hybrid of the Spanish words futbol de salon, meaning 'football of the living room' essentially 'indoor football'.
Futsal was originated during the 1930s in Montevideo, Uruguay.
A teacher by the name of Juan Ceriani wanted to develop an indoor version of the 'beautiful game'.
By 1933, the sport had its official rule book.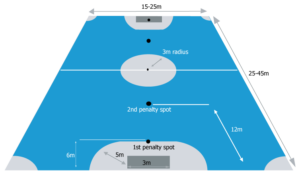 The rules
The first key difference is that futsal is played with a smaller ball, a size 4 as opposed to a size 5, with significantly less bounce – up to 60%.
The game is played on an open pitch, unlike five-a-side where walls or borders can be used.
If a ball leaves the pitch, play is resumed by a kick-in rather than a throw-in.
The sport has a four-second rule – free kicks, goal kicks, corners, kick-ins must all be played within four seconds. If a player takes longer it results in an indirect free kick for the opposing team.
Each team can only commit a maximum of five fouls. After that, for every foul a 10m penalty is awarded for any offence.
Techniques often considered poor in traditional football like the 'toe poke' are widely used and accepted in futsal.
The rush keeper is the most important player on a team.
A player can have anywhere between 6-12 more touches a minute than regular football.
History and future
The sport has grown considerably since the 1930s.
While South America remains the home of futsal, the game has spread all over the globe and 60 million people now play.
The same cannot be said for the UK.
The French Football Federation have begun to endorse futsal as it is the only FIFA sanctioned five-a-side form of the game.
Fahey says: "The FA are stuck in their ways and continue to be reluctant to grow the sport."
He added: "There are so many things players can learn and carry over from futsal into eleven-a-side. It is what the Spanish and Portuguese do and look at the success they have has in recent times."
An example of the close futsal connection can be found when Roberto Martinez was appointed Everton manager in 2013.
According to Fahey, the first thing Martinez did was to arrange for youth coaches like Alan Irvine to go to Barcelona to watch futsal.
Catalan coaches there would demand juniors to focus purely on technique. In turn, this leads to fast, counter-attacking football at men's level.
As Belgium manager, Martinez later used futsal tactics in a famous 2-1 victory over Brazil in the quarter finals of the 2018 World Cup.
If the FA do eventually decide to grow the sport of futsal, who knows? Perhaps one day it can revolutionise English football and lead to a first tournament win since '66.
The FA have been contacted for comment.
Portugal will defend the FIFA Futsal World Cup in 2024, with the host yet to be determined.
Listen to Jamie Fahey's lecture on Futsal:
Read more on MerseyNewsLive sport section here.