A Victorian building at Birkenhead docks has been given a Grade II Listing.
The Dock Gateman's Hut is believed to have been built around 1866 and currently stands on the grounds of the Wirral Waters redevelopment scheme.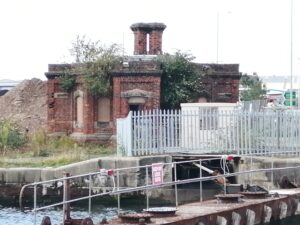 The scheme aims to build housing and enterprising across the East Float Dock, with construction currently underway.
The non-operational hut is owned by shipping company Peel Ports.
Warren Marshall, Group Planning Director at Peel Ports, said: "We have no immediate use for the building so it will have to be maintained in a wind and watertight condition."
A listed status is given to a building if it holds architectural or historical interest. It can then be protected for the future.
Historic England, the authority that grants this status, said: "it is an important, tangible reminder of Birkenhead's second major phase of dock development in the 1860s, which led to Birkenhead becoming an internationally important centre for the meat and flour industries."
The Tower Road building is the last of its kind on the Wirral. It is believed that John Bernard Hartley designed the hut. He was the son of Jesse Hartley, the engineer who designed Liverpool's Royal Albert Dock.
Urban Splash homes at Wirral Waters are currently available to purchase. The new community will also feature arts venues, shops and cafes.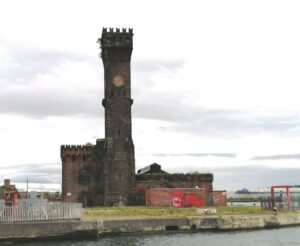 Wirral Waters also plans to turn the nearby, Grade II-listed Hydraulic Tower into a £23m  'Maritime Knowledge Hub'.
In September, Princess Anne visited the Hydraulic Tower and viewed plans for the redevelopment of Wirral's maritime industry.
Click here to read more about Wirral Waters' plans for Birkenhead docks.