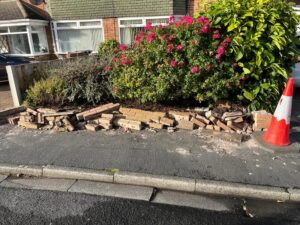 An elderly woman had her garden wall torn down after being falsely told that it was a hazard and Sefton Council wanted it gone.
Shirley Johnson, 88, of Maghull, was approached in her home by a group of men at around 2pm on Friday. She was told that the group were acting on behalf of Sefton Council and that they had received complaints that her garden wall was dangerous and causing injuries.
A group of men gained entry to Mrs. Johnson's home, and upon seeing photos of her deceased husband, one of them tried to sympathise with her by saying he had lost his grandad.
Mrs. Johnson was then asked for a sum of £1,200 as a fee for the job.
Mrs. Johnson's son-in-law was called after this, arriving to find that the garden wall had been torn down and left all over the path.
Mrs. Johnson's daughter, Bev Hughes, an ex-police officer, said that after refusing to pay any money to the group, "obviously words were had": "They threatened they would take my mum to the small claims court… my husband had further conversations with an alleged manner of the company who also threatened to take the matter to court."
Inspector of Local Policing in Sefton, Raymond Mavrakakis said: "To target an elderly woman in this manner is despicable. Thankfully, she didn't hand over any money to this individual, but she has been left with a damaged wall at her home."
After posting on a local community Facebook group for Maghull residents, Mrs Hughes has accepted the offer of a local workman to rebuild her mother's garden wall for free.
Feature photo (c) Bev Hughes