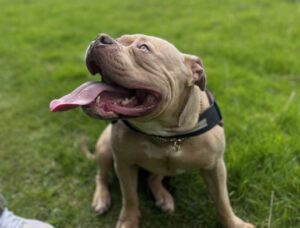 'Taking the Lead' is a campaign launched by Merseyside police in a bid to promote responsible dog ownership.
Following a spate of recent dog attacks, primarily involving the American XL Bully, Prime minister Rishi Sunak announced that he would ban the breed by the end of the year.
This provoked an uproar from dog owners, sparking protests across the UK, with Bully owners proclaiming that despite their fearsome appearance, these dogs make loveable domestic pets.
The campaign aims to encourage people to choose a dog breed which is suitable for their lifestyle and to purchase dogs from credible dog breeders to avoid the risk of buying from illegal amateur individuals.
Carri Westgarth from The Mersey Dog Safety Partnership told Mersey News Live: "The challenge is people already think they're responsible dog owners. A common perception which we all need to be aware of is thinking 'my dog wouldn't bite anyone'. Most dogs have never bitten before, until they do".
"ALL DOGS ARE CAPABLE OF BITING dEPENDING ON THE SITUATION"
The Dangerous Dogs Act, which was introduced in 1991, was implemented to 'reduce' the number of attacks, but 32 years on dog attacks are still prevalent today. The Pitbull terrier, Japanese tosa, dogo Argentino, and fila Brasilerio are four breeds which have been on the list since the Act was established.
The XL Bully isn't officially recognised as a specific breed by the Kennel Club. As a result, this may prove difficult to 'ban' the breed.
Dogs Trust Merseyside published a statement on their website regarding the news of the ban. A spokesperson said "The recent incidents are deeply distressing, and our thoughts are with all those involved and affected. The biggest priority for everyone involved is to protect the public – but banning the breed will sadly not stop these types of incidents recurring."
For anyone who believes a dog is a potential threat to public safety, advise is to report to the dog warden or the local police and they will follow up the risk accordingly.