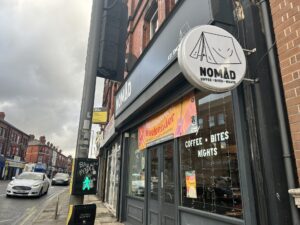 Well, the party certainly arrived in Smithdown this October weekend!
A three-day music festival blessed us with its presence, parking itself in multiple different venues along the famous Smithdown Road. 
With guaranteed free entry to all participating venues, the student in me was immediately enticed to attend. Different pubs and bars taking part in the weekend included Black Cat, The Brookhouse, The Beeswing, Nomad, Franks, Handyman's and many others.  
Smithdown Weekender also teamed up with the Whitechapel Centre to raise extra funds for the charity which aims to end homelessness all together.  
I decided to embark on my journey at the Brookhouse, a place of familiarity and memories of cheap drinks on a Thursday for student night are what fuelled my decision to start here. 
The Brookhouse served me well with a pint of Moretti and started me in good stead for the night ahead. After taking shelter from the typical British weather, we decided to move on to the next venue of the night.  
I had no preference in mind where I went next but was most intrigued by "The Beeswing". 
The interior was warm and welcoming
The Beeswing is a small Irish pub situated right amongst the busy hustle bustle of Smithdown. It is owned by singer Conleth Mcgeary and has not only welcomed music for this weekend but has live musicians every night of the week.
The interior was warm and welcoming, and I managed to find myself a little stool towards the back of the room and sat down to enjoy the music. I treated myself to a half pint of Rekorderlig because of course I am here for a purpose – £2.40, though … what a bargain.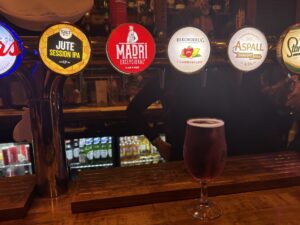 The staff were welcoming and friendly like you had met them already before and although I did almost find myself using the gentlemen's toilet as I misunderstood the Irish signage all in all I would score The Beeswing a solid 10/10.  
Next on the agenda was Handyman's Pub. The exterior of Handyman's has always enticed me as it stands out from the crowd.
Situated just across from The Beeswing, Handyman's takes on the physique of an old tool shop with large open windows allowing for plenty of natural light to soak up the inside of the pub.
With a stage at the back of the room it gives plenty of space to have a dance and meet up with friends – a wide range of different breweries on tap you will be spoilt for choice. 
Smithdown Weekender was a huge success with plenty of different music and venues to choose from. If you are looking for a fun weekend out with friends this is one to choose from – keep a look out for more information on 2024's gig! 
Featured image (c) Sadie Gilbert