Liverpool John Moores University will highlight some of the city's exciting cultural organisations in a special event tonight.
Reverse Big Ideas will demonstrate how the university's teaching and research is enhanced by its community partnerships.
Project organisers from the city's leading cultural organisations will present their ideas during the event in the LJMU Student Life Building on Copperas Hill.
Juliana Landim, the director of drumming group and wellbeing organisation Katumba, is one of the presenters tonight.
Katumba's  history
Katumba was founded in 2015 as a project under BrazUKa International.
Juliana Landim and Richie Tunstall created the not-for-profit organisation, which fosters mental and physical well-being through music and movement.
The organisation shows acknowledgement and respect for Juliana's Afro-Brazilian heritage and had 70 people when it started.
Ca" in Portuguese means "here", and  "Tumba" means "drum", and as an African name, it translates to Equality, Family, Harmony, Opportunity and Love, which is what Katumba Drumming and Movement also firmly stands for.
Juliana said: "(Katumba) has grown to now being our organisation's trading name and focus through all we do – big outdoor carnival productions such as the annual Katumba Halloween Carnival, the community band open to all focusing on health and wellbeing, corporate and educational workshops and Brazilian carnival exchange programmes."
The organisation renovated and moved to its studio and venue – Katumba Culture Hub in 2018.
"The organisation of Katumba is not just a band; it was made with the vision of affecting people's lives positively through music and movement," Juliana said.
Members of the publiccan get involved
Juliana said: "Katumba will hold a few drumming and movement taster sessions open to the general public in the coming months, with the first on March 18, with no experience needed."
The organisation's school drumming workshops also offer a multi-cultural experience to local pupils, together with team-building workshops.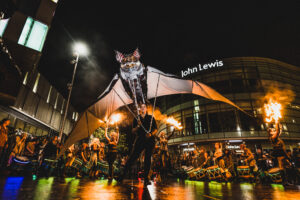 Tonight's presentation from Katumba will focus on two significant projects – a Halloween Carnival and Brazil Cultural Exchange.
"Our big production is the annual Katumba Halloween Carnival,"  Juliana said.
"This carnival is not tied up with American Halloween; it comes from our Brazilian carnival roots and it takes place the last week in October in Liverpool city centre and Toxteth.
"We had 200 performers last year, not only from Liverpool. We brought together professionals and community participants."
This year the carnival will be held on Saturday October 28.
Juliana's speech will also focus on an exchange trip to Brazil.
This trip takes place during the annual Brazilian festival. It starts before Ash Wednesday, which marks the beginning of Lent.
She said: "The participants will participate in various workshops and can go on additional trips such as visiting indigenous tribes, tropical islands and many other wco0tourism activities."
You can watch a participant's experience at the following link: https://katumba.co.uk/news/drummer-blog-maria/  
Reserve a ticket for Reverse Big Ideas here: https://www.eventbrite.com/e/reverse-big-ideas-tickets-552652778337