In the week when Ukraine's President Volodymyr Zelensky has vowed to 'find the murderers' of a prisoner of war, a lecturer from LJMU has warned a possible third World War is a step closer
The apparent shooting of the prisoner of war and shown on social media is the latest escalation of the ongoing war in Ukraine, with Russia making no public comment on the incident.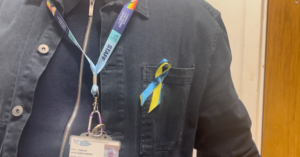 LJMU lecturer Simon Piasecki has warned a possible World War III could be a step closer because of the events over the last fortnight.
This included a bitter speech made by Vladimir Putin, vilifying the West and justifying his country's invasion.
Simon, who has family in Ukraine, said that China's involvement could determine how the current war develops.
He said: "There is suggestions that China may try and give tactical support to Russia, which I think could be incredibly dangerous.
"I'm scratching my head as to why anyone would want to do that."
Putin announced Russia was ready to resume nuclear weapons testing, which would violate the 'New Start' treaty they signed with the US.
In addition, the Kremlin leader said that he had signed a decree on "putting new ground-based strategic complexes on combat standby duty".
He also seemingly showed no regret over his decision to invade Ukraine.
Simon said: "How can anyone who invades a country say that it is someone else's fault? He has this incredible ability to argue opposites.
"To say that the West started the war when Russia clearly marched in with 100,000 troops, it is just a nonsense."
Watch Shay McGurrin's video report here: