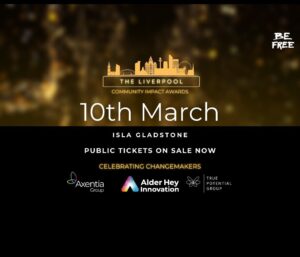 The Be Free Campaign will host The Community Award Show to recognise change-makers and innovators in the community.
The event will take place at the Isla Gladstone on Friday March 10, with eight different awards up for grabs.
Shantanu Kundu, the founder of the campaign, wants to shine a light onto different sectors within the community.
Shantanu said: "They key thing about this event is the community. The awards are about how we can work with people to inspire them and hopefully take on something new becoming a change maker within their own right.
"Supporting the event is supporting the people so hopefully as the years go on this event can become bigger and bigger and the community around Liverpool's impact scene increases."
Local artist Wez Morris who does workshops for The Be Free campaign and is nominated for The Arts and Creativity Community impact Award says that just being able to inspire people is an award for him.
"To see a kid smile at a picture he's just done or a group of people coming together trying to collectively create something is my payment. To be recognized for an award it's like wow thank you", he said.
"At first painting was just a hobby so to take that from there to my own little business is amazing.
"During the start of Covid a lot of people were really losing their minds over what was going on, so I was quite lucky.
"During this time, I used my artwork to focus and by the time, we came out of Covid I had established a good business for my artwork, a good platform and nice portfolio.
"There were people out there who got left behind and didn't have that privilege so to be able to come back out of that and use what's I've gathered and make a difference to people's life is amazing."
The awards up for grabs are:
The Small Charity/Not for Profit Community Award
The Mental Health Changemaker Award
The Innovation Community Impact Award
The Business Community Impact Award
The Volunteering and Leadership Community Impact Award
The Arts and Creativity Community Impact Award
The Community Impact Award
Social Purpose Award
Watch Matthew Oliver Welch's video report here:
Featured image: