Hannah Waddingham, star of the hit show Ted Lasso, will co-host this year's Eurovision song contest in Liverpool.
The Emmy-award winning actor will be joined by Alesha Dixon and Ukrainian singer Julia Sanina.
The three of them will be the face of the semi-finals, which take place on May 9 and 11.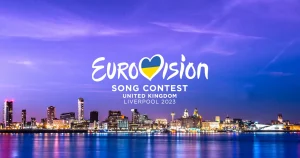 Graham Norton is joining them for the 'Grand Final' which is on Saturday May 13.
Liverpool is hosting the event, as the 2022 winner Ukraine, cannot hold the competition because of the ongoing war with Russia.
Hannah Waddingham spoke on the significance of the event.
She said: "It is a great privilege to be involved.
"It is an honour to be standing shoulder to shoulder with Ukraine, a county which itself has carried itself with such strength and unity."
Waddingham, will be joined by frontwoman of Ukrainian alternative band The HARDKISS, Julia Sanina.
Julia said: "I am excited to show Ukrainian culture and creativity.
"I want to help put on a show which will make my country proud.
"I can't wait to get to Liverpool and meet the fans and the rest of the Eurovision family"
It is an all-female line up for the knockout stages, with the competition expected to have 160 million viewers across the globe.
Singer Alesha Dixon said: "There is just something about the anticipation of a live show which can't be rivalled."
Longstanding Eurovision commentator Graham Norton, who will join the other three hosts in the final described the honour.
He said: "Every year that I am involved is a huge honour.
"This year feels even more special, I feel a huge responsibility to make our Ukrainian colleagues proud"
The BBC also confirmed that BBC Radio 2 presenters Scott Mills and Rylan will be the semi-final commentators for the BBC.
Further hosts are local girl Sam Quek, Mel Giedroyc and Timur Miroshnychenko.
Reaction regarding the hosts has been mixed on Twitter, many wondering why it takes nine people to host.
I'm genuinely interested to know why it takes 9 people to host Eurovision.

— Linda Winstanley (@AltrinchamGirl) February 22, 2023
Why give Graham a hosting job if he's only gonna be there for the final? Just leave Alesha, Hannah & Julia to host it, makes more sense imo

— The Norfolk Sonic 💛💚 (@Ginger_Canary) February 22, 2023
Whereas others think that an obvious choice has been missed.
When Alison Hammond was right there… 😕

— Ellis (@EllisCole_) February 22, 2023
With a show as huge as Eurovision, the cost, though shared, is substantial.
Local government has promised £4 million for attractions around May's contest.
Attractions include a fan village, stages for live music, big screens as well as other city-wide events.
The UK government has said that they will also contribute financially.
The exact figure they will produce is unknown – though they claim the event will make the money back itself.
Last year in Turin, officials confirmed that they spent close to £10 million, so whether the £4 million pledged by the local government will be enough, remains to be seen.
Most of the cost will be placed on the host broadcaster, with BBC expected to spend between £8 million and £17 million.
Information regarding tickets is expected to be released within the coming weeks.
Search for Eurovision volunteers as critics call for paid roles instead