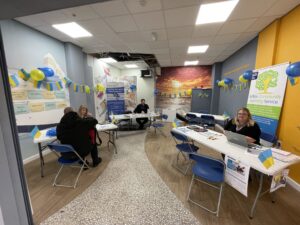 Eurovision-lovers are being encouraged to help Liverpool stage the event with a new pop-up shop offering jobs and volunteering opportunities for those wanting to get involved.
The pop-up event arrived at the Bootle Strand last Monday.
Cllr Marion Atkinson said: "If you've been thinking about getting involved in the Eurovision Song Contest but have been having trouble making your mind up, visit our Pop-Up shop at Bootle Strand on a Wednesday or Thursday.
"They won't offer you a glass of Bucks Fizz, but they will help you find a Eurovision role that might be suitable for you."
The event was created by Job Centre plus in partnership with council organisation Sefton At Work, aiding people's developmental skills, through career coaching schemes and help local employers in the area with the recruitment process by advertising vacancies, and interviews.
Gareth Wilson, co-ordinator for Sefton At Work, told MNL about the importance of these events.
We support people with job searches
He said: "In a supporting capacity we are helping with manpower when the pop up is open and are also able to offer assistance via our Ways to Work project for local workless residents should they wish to register with us.
"This will give them access to 1-2-1 support from a qualified guidance adviser with free, confidential and impartial advice and guidance in helping them overcome any barriers they may face in getting back into the workplace."
"We support people with job searches and help with their CV development as well as providing assistance with future job applications."
If you are interested and feeling inclined to get involved, you can also find out more about the Eurovision roles by emailing

[email protected]

, or you can call the team on 0151 934 2610 or speaking to their Work Coach at Job Centre Plus.
You can find out more about the Sefton team and what they do by clicking here.