Liverpool Football Club's longest season ticket holder, Ken Hirst, has died at age 99.
Tributes to the long-term fan poured in, including tweets from former footballer Robbie Fowler and 2016 Paralympian Ryan Crouch.
Born in Anfield in the summer of 1923, Ken went aged 13 to his first Liverpool game in the 1935/36 season.
He served in the Home Guard, in "C" Company of the 85th Liverpool Battalion, where he trained residents on how to defend their city, and had rose to the rank of Lance Corporal, by 1941.
Ken was called up to fight in World War II aged 19, in 1942, and was present at the D-Day landings in June 1944.
Ken further served in different European Campaigns and finally within the Home Counties. He was eventually demobbed on March 21 1947.
LFC posted a social media clip last summer as the club celebrated its 130th birthday, titled "90 Years A Red" which starred the football fanatic and went viral with over 600,000 views.
At the end of the clip, he said: "There is no one better in the galaxy than Liverpool" – adding that he'd only missed a handful of games.
Grandson Mark Hirst wrote a touching eulogy: "Ken had a happy childhood in a loving family home, which included their dog Tinker, who lived well into his teenage years.
"After the war, Ken enjoyed playing tennis and football. He played for a number of local teams, something he enjoyed into his mid 30s. This culminated in playing for Quarry Bank Old Boys.
"His playing career was cut short after meeting and falling in love with a girl by the name of Margaret Patricia Brockbank. Whether this was by mutual agreement, or it was Margaret's decision, remains a mystery!
"Ken kept his two seats until the present day, which gave him the wonderful opportunity to share his love for Liverpool Football Club with his family and friends."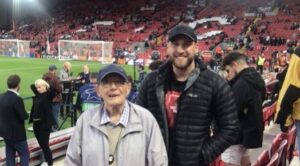 Mark said that if there was one thing that brought the whole family together over the last 14 years, it was Max, a dog which lived between three families and brought joy and companionship to so many people.
Ken considered him his best friend, who since losing Margaret would turn out to be his sole-mate and his companion. In terms of dog years, he was actually older than Ken and nobody thought that Max would outlive him – including Ken.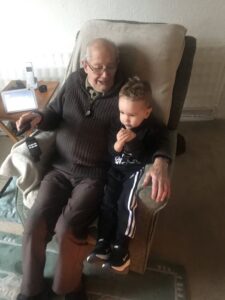 Ken Hirst / credit: Mark HirstMark added: "In recent months, Ken had suffered from nasty falls and injuries which were to have a significant impact on his mobility and well-being and from which he would not recover.
"His family drew closer together in support of him and he was surely left in no doubt of his importance to them.
"He was eventually admitted into hospital and after extensive treatment, succumbed to Bronchial Pneumonia and passed away peacefully in his sleep on the 1st of February.
"This was a humble man with a big heart and a good nature."
Watch Sophie Wyatt's video report here:
Featured image via Mark Hirst