A Nobel Peace Prize nominated AIDS Quilt will be exhibited at the night life venue, 24 Kitchen Street this World AIDS Day.
It will be on show from Deecember 1, to bring awareness about the history of HIV / AIDS.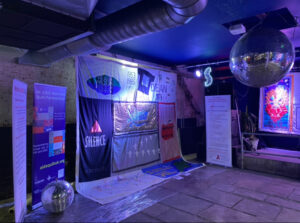 Merseyside charity Sahir House said: "The UK AIDS Memorial Quilt is a precious queer artefact."
The quilt is a handmade memorial for those who have lost their lives to AIDS related illness. Mersey News Live spoke to the Partnership Development Coordinator at 24 Kitchen Street, Josiah Worth, about this artefact.
Josiah said it's "massive" that this is the first time the Memorial Quilt will be displayed in a UK nightclub.
He said: "This is a big example of what we can do.
"It's pushing that narrative forward of how powerful queerness is, how powerful the gay community is, how powerful LGBTQ+ people are and how we can literally change the world if we choose to."
"We can literally change the world if we choose to"
The 28-year-old said: "The main reason we're wanting to bring it into 24 kitchen St and into a club setting is to one make it accessible, there's a lot of people who might not feel comfortable going into those environments and might not feel comfortable visiting them in a big government building and museums"
It was important to Josiah to get people who go clubbing to see important parts of "social history".
He added: "There's a lot of queer people who don't know about it and that's quite a massive privilege to not know about the reasons why we have such things as HIV treatment."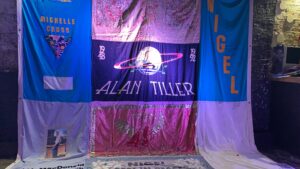 Each of the panels that from the quilt measure 3ft x 6ft which signifies the average size of a grave.
It was important to Josiah to commemorate the those "whose lives were a catalyst for change".
He said: "For us to be able to bring this into a club setting that I used to, before I worked here, come to all the time."
He added: "It's a place that as a gay man I feel very very comfortable and very very safe here because of the work Kitchen Street has done over the past eight years to build this organic and trustful relationship with the queer community.
"It's really important to bring those two worlds together"
24 Kitchen Street has been working alongside Sahir House, a Merseyside based charity offering HIV support, prevention, and information.
This World AIDS Day marks 40 years since the first reported cases of HIV.
He said: "Working with them we wanted to provide more of a bespoke outreach to an audience that we already have"
Fundraising ball will boost charity
In addition to the Memorial Quilt, the venue are hosting the Red Ball tomorrow as a fundraiser for Sahir House.
Sahir House said: "The Red Ball is hosted by David Hoyle who came to prominence in the 1990s as the Divine David, a kind of anti-drag queen whose lacerating social commentary was offset by breath taking instances of self-recrimination and even self-harm."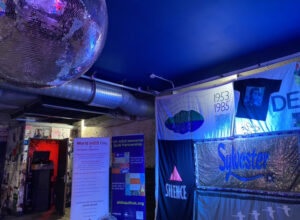 Josiah had quite a personal reason for wanting to exhibit the Memorial Quilt at 24 Kitchen Street.
He said: "After watching 'It's a Sin' and you saw the realities of how mistreated people were at their most vulnerable.
"People were away from their families, they were dying, and they were treated so poorly that I thought it was important for people to connect with that on a personal level like I had."
The Memorial Quilt will be available to visit during the day at 24 Kitchen Street from December 1-5 from 9am-6pm.
For the full interview take a look at the video below: