Walking into a play about poverty in the 1930s on a rainy September night in St Helens, I expected an evening of gloom. However, from the moment the actors stepped on stage, the room came to life.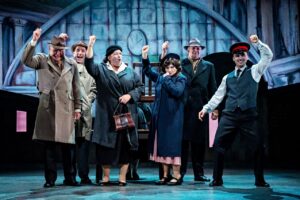 Twopence to Cross the Mersey is not a fun topic. A family stricken by unemployment and destitution that we observe through the eyes of 12-year-old Helen Forrester. Forced to leave school to look after her six other siblings while her parents look for work, the play revolves mainly around Helen's longing to return to education.
Although slow to start with, the play does an excellent job at setting up characters in the first act. We only see three out of the seven children but they refer to the other children throughout the play so vividly that you can picture them up there. There are also many moments of humour sprinkled throughout the play to break the serious tone.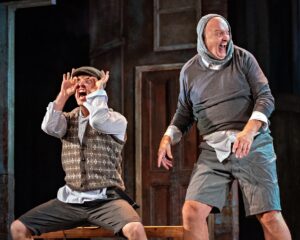 As a 21-year-old watching a play set in the 1930s, I feared I wouldn't understand much of what was going on (I certainly didn't understand the currency!). Yet for most of the play, I felt I was watching something on my TV as the actors had a knack for making the performance seem modern through humour.
The play was also littered with Liverpudlian wit that made everyone laugh. One moment where the posh father couldn't understand a Scouser say the word "arse" had the audience howling. This humour also helped keep the illusion of adult actors playing roles of young children, using the naivety of a 12-year-old to make innuendos to the audience.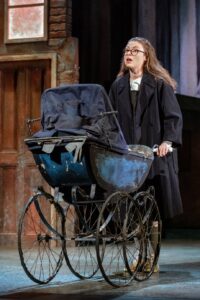 That being said, Jenny Murphy did a flawless job at playing Helen. Her use of tone and actions on stage really made me feel there was a child on stage. All the actors did a phenomenal job.
There were a multitude of characters throughout the play that had a variety of articulate London accents as well as thick Scouse ones. However, once the play ended and the actors came on stage, I had to count twice to check the number. I counted nine actors in a play containing around 30 characters!
Overall, Twopence to Cross the Mersey is a must-see for all. It tells a tale of austerity in a city at a time that is often overlooked in history, and it hits home when you remember it is a story about the suffering of a real child.
STAR RATING: 5 out of 5
Twopence to Cross the Mersey is at St Helens Theatre Royal until October 1 and then goes on tour including Grand Theatre Blackpool (Oct 4-6), Warrington Parr Hall (Oct 8-9), Southport Atkinson (Nov 1-4), and Liverpool Epstein Theatre (Nov 5-12).
Featured photo by Anthony Robling