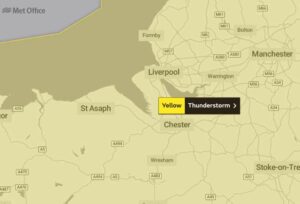 The Met Office is warning Merseyside residents that strong winds up to 80 mph and showers will hit the city starting tomorrow (October 5).
The weather warning may lead to disruption, such as public transport cancellations and road closures.
Video report: Matt Welch and Shay McGurrin
Final Year LJMU student Suzy Johnson said: "I am worried about these weather warnings because I do rely on public transport to get to uni and after Arriva went on strike in the summer, I struggled to get around the city as I do live far out.
"Being in third year of university it is of course vital to have good attendance and studying early childhood studies I do need to be there to get placements sorted. So yes, I am worried and quite stressed."
Deputy Chief Meteorologist Rebekah Sherwin said: "There is a chance the deep low-pressure system will bring gusts of 70 to 80 mph in northern parts of the UK on Wednesday. "
The yellow warning means that there could also be a small chance of injuries and danger to life.
Credit for featured image: Visit Liverpool