Striking staff formed a picket line on the Liverpool John Moores University campus today as ongoing strike action entered its third week.
Members of the University and College Union (UCU) are on strike in a dispute over pay, conditions and pensions.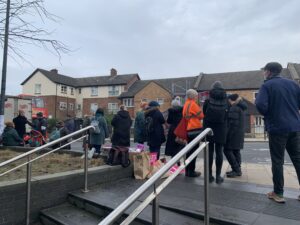 Saira Weiner, a union rep at Liverpool John Moores University was on the picket line with her fellow colleagues outside Redmonds Building on Brownlow Hill and said: "We've had a 25 percent pay cut before the dispute started since 2009.
"Now, with inflation food prices going up by 17 percent, we're effectively working more than two days a week for free.
"There's billions of pounds washing away in the university sector, it's not going to students, it's going to buildings."
The UCU said it will reballot 70,000 members to allow industrial action to continue until the end of the academic year, if its demands are not met.
LJMU was approached for comment.
However, at the start of the strike period at the beginning of February, a statement from Universities UK on behalf of USS Employers said:"It is disappointing to once again be facing industrial action and the top priority for universities will be putting in place a series of measures to protect students' learning.
"We expect action to again be limited and the action faced in recent years means universities are well prepared to manage any pockets of disruption."
University staff have taken six days of strike action already this year and a further 10 days of walk-outs are planned.
UCU staff also walked out in November 2022. Industrial action has been taking place at some universities since 2021.
One of the union's concerns is changes which were introduced that meant pension contributions increased and future benefits were reduced.
According to the UCU, the average member will lose 35% from their guaranteed future retirement income.
Saira added: "We're hopeful that we'll come to some sort of agreement that will get a reasonable pay rise.
"And we're also hopeful that our issues such as being overworked, casualised workers, and gender and race pay gaps, will get sorted out."