Everton in the Community has launched the first of four Forest School projects in its partner primary schools across the city.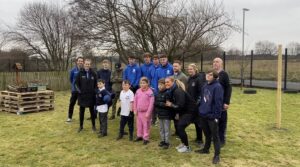 Ahead of Everton in the Community's (EITC) 35th birthday, four Everton under-21 players joined the charity and Everton Free School to launch their Forest School last week.
Mackenzie Hunt, Jack Barrett, Joseph Anderson, and Mathew Mallon attended the event at Holy Spirit Catholic primary school in Bootle and assisted the pupils in creating their new outdoor education habitat.
Mackenzie Hunt said: "It has been good to get involved with kids who are not in as fortunate situations as we are. We've loved helping them and the school out, and giving the students something new to use."
The long-term project has seen the players, Holy Spirit pupils, and Everton Free School working together for the past few weeks by gardening and preparing the space to make the environment safe for pupils to learn and explore in.
VIDEO REPORT: Rachel Cowan
Sustainability has been a key focus, with the supplies being sourced from surplus materials on other Everton in the Community projects, such as the People's Place build.
Everton in the Community is the official award-winning charity of Everton Football Club and is widely considered one of the Premier League's leading community schemes due to the reach of its 50+ programmes.
'Everyone loves their roles'
The charity celebrated its 35th birthday on Wednesday, and has been a significant presence in the community since it was founded.
Alice Flynn, Enrichment Coordinator at Everton in the Community said: "I have only worked for the charity for a year and a half, and have already noticed how much everyone loves their roles and what they want to do for the community.
"I think all the different attributes and things people want to achieve in the community is making it grow and provide lots of different opportunities, which is what makes this charity so amazing."
Everton in the Community recently announced its new Societal Value figure, which means for every £1 donated to the charity, £29.86 of social value is generated.
The charity's recent milestones include opening of the region's first Digital Skills Lab, the launch of the Blue Base Pantry, continued development of its dedicated mental health hub, The People's Place, and the expansion of its offering of programmes to people over 50.
Featured image: Rachel Cowan