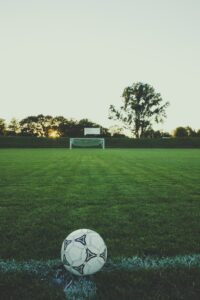 A man who was quoted £194 to hire a football pitch sparked a debate about the cost of local football.
Neil Gregson took to Twitter after he tried to hire an 11-a-side pitch at The Jeffrey Humble Hub in Aintree.
The dad tweeted: "Just been quoted £194 for an 11aside pitch at the Jeffery Humble hub, and to think we all got spun the line that these hubs would be used for grassroots football. If any Saudi or Qatar billionaires are looking to invest in a u13s team DM me."
The tweet gained a number of replies, with many sharing similar experiences and voicing their fears that grassroots football is becoming far too expensive.
'You're almost running at £120 a game'
Sad_Ken @Mr_55p replied: "I've had the same problem. Quoted this week for an hour and a half on a 3G pitch for a 7 aside match £97.
"Once we put the ref on that you're almost running at £120 a game. I thought the idea was to encourage you on to 3G to improve the quality of football."
@DarrenTurley5 tweeted: "It's an absolute joke mate! We've just been told that our midweek fixtures in our league are going to start in March and any teams that can use their own pitch have to play on Clubmoor Rec.
"Almost every team in our league are gonna be on there unless they pay these horrid prices!"
@jackjm94 added: "Been getting quoted similar. Played 5 games all season for u15s. Luckily council have redone our local astroturf but sadly forgot to buy goals for it yet"
In 2016 former Liverpool Mayor Joe Anderson invested £17m in local grassroots football, creating four football hubs The Jeffrey Humble Playing Field, The Heron Eccles Playing Field, in Allerton, Jericho Lane Playing Field, in Otterspooll, and Simpson Road in Woolton.
The investment was said to help nurture the stars of the future, but many fear talented players will be priced out.
@RedOyibo10 replied: "Just been to Wavertree Aquatics gym. Astro is locked and empty. Asked if we can pay as you go like the hubs.
"Told no, have to hire a pitch for £40. Me and a 10 year old. Told I need to write an email to raise the point as the council won't open it till 5pm."
Alex Tunstall @a_tunstall shared their anger: "Disgusting that. Take the streets away. Build houses on every bit of grass available In some places build hubs on top of existing grass pitches which were free to everybody at any time of day to just play and they wana charge extortionate prices for the privilege"
While @MarkMt878 said: "PL clubs could easily fund block bookings of 3G/4G pitches for grassroots leagues.
"Maybe it is about time the FA had a word with the PL about supporting the grassroots game in the country where they make and spend billions."
The Jeffrey Humble Hub has been contacted for comment.
Featured image: Markus Spiske on Unsplash