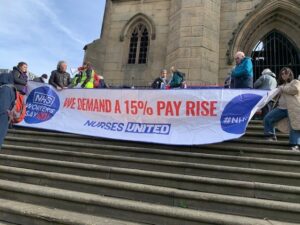 Nurses and ambulance crews across Merseyside are on picket lines this morning, as the NHS experiences one of their biggest strike day yet.
Workers are striking outside the Royal Liverpool Hospital among other NHS trusts across Merseyside, including Arrowe Park in the Wirral.
They join the national action which will see tens of thousands of nurses and ambulance staff walk out in support of pay claims.
Many nurses are in support of their colleagues on strike, although some nurses believe the strikes are for 'selfish reasons' and that they are 'morally and ethically wrong' (see below).
@merseynewslive

Nurses across England are striking today, this one nurse doesn't agree with the striking and finds it 'selfish'. What do you think?
Watch this page for updates …