Liverpool City Council is being praised for tackling waste disposal issues in residential alleyways.
The 4ft alleyways between homes in residential areas of Merseyside have been an ongoing problem for residents, with several bins in use at any one time and collected once a week.
This can lead to exposure to harmful waste and rats alongside creating issues during hot weather with an increase of flies and foul smell.
In order to combat this Liverpool City Council began a £6 million investment in 2019 to introduce communal bins throughout areas of Merseyside and repair the alleyways.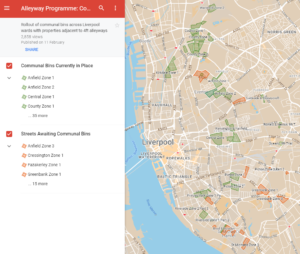 Since then 15,000 properties have benefitted from the repairs.
At a meeting of the council's Neighbourhood Select Committee Liverpool City Councillor Christine Banks said the communal bins meant people are respecting their areas more and she felt as though the waste disposal team were fantastic.
Communal bins are more economical to collect as they have one specific area to visit meaning a smaller team.
They also take almost no effort to maintain and less pest control is needed.
The bins can highlight recycling to neighbourhoods as people need to be more cautious of the items they recycle.
Emma, a teacher and Kensington resident with a communal bin said: "I like them as there is less chance of rodents near our house and we don't have to put our bin out every week. But it could be bad for older and disabled people."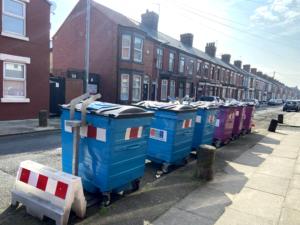 Councillor Joe Hanson explained: "If you cannot carry your bin bags, the refuge workers will assist you."
He said is excited about the scheme and believes there has been a vast improvement and it has had a great reception from constituents in his Kirkdale ward.
Elizabeth, a Baltic Market apartment resident said: "For an apartment block or flat it's more time consuming having separate bins… [and it] saves on cost for the council."
However, she continued: "I can guarantee that some people will just put all their rubbish into one bin bag and you would not be able to tell if it's going into the right recycling.
"I've also noticed in communal bins that people will put recycling in a plastic bag, not good for the environment, obviously it's more time consuming when it goes to a waste disposal."
Alana, a resident from Smithdown, a predominantly student area, was not convinced that the bins would be used properly.
She said: "I doubt people could be bothered to walk to the end of the street to empty their bins. Look in June when they all leave, the streets are havoc."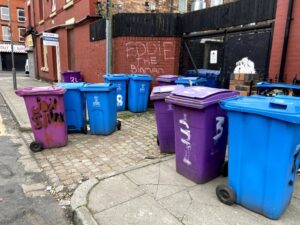 At the end of June, when the student move out of their rented accommodation, Liverpool City Council and the city's universities provide skips throughout the Wavertree area.
The Neighbourhood Select Committee meeting discussed the potential for anti-social behaviour towards communal bins on bonfire night.
Mike Brown from, Liverpool Streetscene Services Ltd.  answered: "The bins would be empty so there would be no combustible material. The bins are metal so the fire would be contained and would not be near properties."
"The focus would be to rescue the bins as we can't stop it happening, but the bins would be very visible," he continued.
So far 165 alleyways have been rejuvenated within the repair programme.
Read about Liverpool City Councils green bin tax today on MerseyNewsLive.
Featured image by Georgia Chapman