With 84 businesses and countless tourists, the Royal Albert Dock has to deal with an abundance of waste, so they have launched a zero waste programme.
Instead of having separate waste programmes for every business on site, the Royal Albert Dock has moved forward with a concept to create a single waste area for all businesses to contribute to.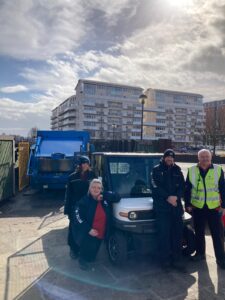 The concept will be more economical as there will be fewer waste collectors, less maintenance on bins and a more suitable recycling scheme can be introduced.
To keep the entire process as green as possible, waste is collected using an electrically-powered buggy.
Sean Morrison, Royal Albert Dock Estate Manager, explained: "Previously, each occupier and tenant sourced their own waste collection service so we had so many different companies coming on site every day with their lorries, that impacted negatively on our carbon footprint and meant the recycling numbers were not being closely controlled or monitored".
The iconic dock opened in 1846, and continued to dominate the global trade throughout the early 19th century.
After struggles throughout the war and the post-war years, by 1981 the Liverpool Docks were abandoned and unloved.
From 1986 the Maritime Museum opened, being the first business on the site, launching the Royal Albert Dock we know and love.
In 2017 the docks attracted more than six million visitors, creating a £13 million intake in profits.
Since the redevelopment of the docks, the iconic space now holdsthe Tate museum, the Beatles Story and an abundance of local spaces.