Liverpool City Council is hoping that an increase on council tax and a new £40 charge on green bin collections will help fill a shortfall in council funds.
The city's budget has taken a significant blow over the past decade and during the Covid-19 pandemic in particular.
A spokesperson for Liverpool City Council told Merseynewslive: "We have already had to save £465 million since 2010, so our budget is already around 65% lower than it would have been.
"Covid-19 has had an impact, but government did provide funding to cover some of the additional costs."
Introducing new fees on green waste are seen as a way to offset costs by the council, avoiding more cuts to essential services.
"The council needs to save £24.5 million in the next year, so introducing new charges and council tax helps close the gap as an alternative to cutting more services."
The spokesperson added: "The green bin collection is only provided to residents with a garden so in that sense it is effectively subsidised at the moment by those without a garden."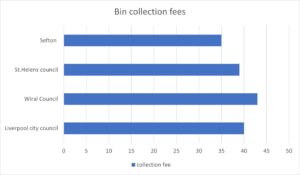 This is not a first for a council. Other councils in the Liverpool City region such as St Helens have been operating a similar system for a number of years. The council estimates that the charge will bring in £1.7 million a year and that it will be spent on "general services."
This is only the beginning for the council looking to bring money back into its coffers and into public services.
"Our medium term financial plan estimates we need to make savings of £87 million between now and 2025/26, so there will be around another £50 million to find in future years."
Featured image: Unsplash by Pawel Czerwinski