As the crisis continues to deepen across Ukraine, local people have shown their support for a campaign to help the country's refugees.
The appeal for clothing and medical donations began with founder of Polish community group Polskie Merseyside, Michael Frackowiak.
Michael began this operation by sending out posts on Instagram for donations and volunteers to come and help at the warehouses across Merseyside.
Michael said: "A few of us from the organisation thought what can we do to help this crisis, and this war, from Liverpool.
"Very quickly we realised we wanted to do something special that maybe we haven't done before which is to collect clothing, toiletries and nappies to go to families fleeing Ukraine to go to Poland".
Donations flood into the warehouse
The warehouse in Huyton, home to Roberts Recycling, has been transformed to hold the generous donations.
Brothers Simon, Paul and John Roberts, owners of Roberts Recycling became involved with the donations process following one of Simon's friends being let down on the collection of donations.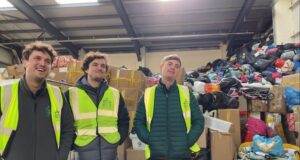 Simon said: "I investigated a bit further to see if we could help, and spoke to Michael and Martin from Polskie Merseyside.
"Michael said 'What can you give us?' and I said we have a spare warehouse at the minute which you're welcome to use for a week or two."
Donations began arriving at the centre last Thursday and by Friday evening the warehouse was full to the ceiling.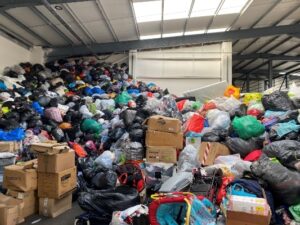 The next step is for the donations to be sorted before they are sent on to Poland.
Michael said: "We've stopped taking donations so now we need to sort everything and put this on pallets to be sent to Poland.
"We will start off with first aid kits, medication and toiletries and then the clothes will follow on from that."
Michael added that the response from the public has been great but they are still looking for volunteers to make sure that all the items are able to get on lorries which are going to Poland.
He said: "We need people to come and help us in both our Huyton and Kirby warehouses, even if it is a couple of hours.
"If you are part of a sporting club, tennis club, rugby club, come and help us, because the sooner we do it the sooner it is going to go to Poland."
People of Liverpool react to Ukraine invasion as Russian forces zone in
Liverpool professor warns of refugee disaster in the Ukraine