It is estimated that over half a million people are affected by Inflammatory Bowel Disease (IBD) across the UK, yet the condition is still rarely spoken about and is hugely misunderstood.
Crohn's Disease and Ulcerative Colitis are the two main forms of IBD.
Crohn's Disease is described as a condition that causes inflammation of the digestive system.
Ulcerative Colitis is a condition that causes inflammation and ulceration of the inner lining of the colon and rectum (the large bowel).
This is Lauren's story:
Lauren is 26 years old and originally from Bradford, West Yorkshire. She moved to Liverpool in 2015 and decided to build a life in the city after finishing her university degree.
Lauren's symptoms began in 2017, when she was about to begin her final year at university. She went to the hospital to get some tests and they never got back to her.
After she left university, the symptoms started again, but this time a lot worse.
Lauren said: "The symptoms started back up again, to the point where I couldn't even leave my own house and take a 5-minute walk without being in pain, and I mean scrunching over and crying out."
Finally, after years of symptoms Lauren was finally diagnosed with Crohn's disease.
Living with the condition:
Crohn's and Colitis affects every patient differently. Some experience diarrhoea, some experience fatigue and some even experience mouth sores and reduced appetite.
As the conditions are closely linked to your bowel, strict and specific diets are the most misunderstood.
Lauren told Merseynewslive: "Diet can be affected by Crohn's, but when I was researching food that you can and cannot eat, things like red meat were on both lists, it's more if your body doesn't react well to the food, you stop eating it"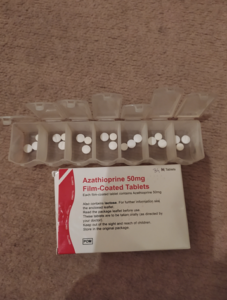 She added: "What took me most by surprise was the fatigue, it leaves me sometimes housebound, because I sometimes can't lift my head of the pillow, I'm so tired and it's so thick, the cloud of it and it can be quite isolating when you're that tired."
As well as fatigue, Lauren described join pain as one of the symptoms that has affected her the worst.
She explained she didn't know it was even a symptom of Crohn's, but the doctor said it's usually the first sign of the condition.
Living with IBD is different for every individual. However, it is an incurable condition which can require regular hospital visits.
Lauren said: "Every two months I go to the local hospital, and I am hooked up to an IV to get infliximab, which at one point was used for chemo so it is very much a punch to your system."
Speaking about her occupation, Lauren described the difficulty she has with these regular appointments.
She told Merseynewslive: "Crohn's disease is one of those weird illnesses because it doesn't have a cure, but it isn't covered in some respects, it's never listed in your sick days, and you have to fight for it to not be taken as annual leave."
Understanding the struggles of IBD:
As Crohn's and Colitis is not a visible condition, Lauren explained that it is difficult for others to understand the severity of the condition.
She said: "Hannah Witten is a youtuber who has severe colitis and ended up getting stoma surgery and she used a walker for six months to improve her core, it shows how fluctuating the condition is.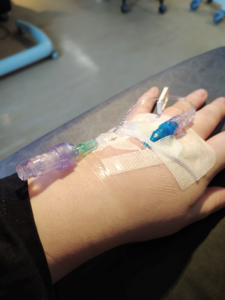 "People won't see a stoma because it's under your clothes, people only see disabilities as wheelchairs."
As well as this, there is an increasing stigma involving the diseases due to their link with the bowel.
Lauren said: "When people write stories about living with Crohn's and all the comments are things like 'I bet they smell' because it's a bowel condition."
She added: "I've spoken to people on support groups who have said they have had accidents outside the house, and it was the most traumatising thing ever.
"Growing up you learn how to use the toilet but with this condition that control is taken away from you as when you have a flare you have legit ten seconds to get to the toilet."
A medical perspective:
Lisa Critchley is an IBD specialist nurse at the Liverpool University Hospitals.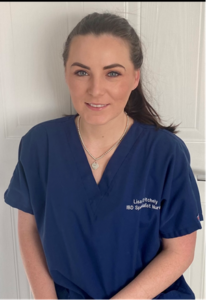 She told Merseynewslive about the help, treatments and support the department give to their IBD patients.
She said: "Us nurses are there to prevent hospital admissions and to treat patients in-between their hospital visits."
She added: "I look after patients coming from paediatric care, transitioning from children's services through to an adult service and seeing if their mental health is well because for some young adults transitioning can be quite daunting."
Lisa was herself diagnosed with Crohn's disease when she was 17 in the crucial years doing A-levels and going on holidays with friends.
Lisa described how it is a very embarrassing time for most when you are diagnosed with the disease, however, she remained positive as it is not a life-limiting condition.
She said: "If the patient has the right support and right contacts there's no way they can't live a normal life.
"When they're having periods of being unwell, we can make them well so they can lead a normal life."
Advice and help:
Molly Evans from Crohn's and Colitis UK said: "Our Helpline is available via telephone, email and live chat to provide clear, accurate and balanced information and can support you to live well with Crohn's or Colitis"
She added: "Although unfortunately the impact of Covid-19 meant our in-person events had to be put on hold, now we run virtual social events to give people with Crohn's and Colitis a chance to chat, share experiences and learn from others, wherever they live."
To learn more about Crohn's and Colitis or for any support please visit: https://www.crohnsandcolitis.org.uk/