The family of Brian Epstein have thanked everyone who has helped commission a statue of the Beatle's manager also known as the fifth member of the band.
In a post on the Brian Epstein Project website, they wrote: "Thank you everyone who supported our mission to see the world "come together' over Brian's vision which gave us The Beatles and so much more."
Mr Epstein is largely regarded as the 'fifth Beatle' member because of how influential he was for their careers. He was their manager from 1962 up until his death in 1967
His statue is currently being cast at the Castle Arts Foundry in Llanrhaeadr, Wales, and once it has been developed, it will be transferred to Whitechapel in Liverpool City Centre.
Andrew Edwards, who is helping to produce the statue believes it celebrates 'a truly unique and great individual.'
Mr Edwards believes the statue has great significance for the city.
He said: "A statue of him stands for the creativity and beauty of this city.
"Liverpool is already a place of pilgrimage for people all over the world to be dazzled. This statue is another jewel within it, a new landmark, part of our story and a wayfinder within our landscape."
Andrew Edwards is no stranger to having some involvement with iconic statues in Liverpool, as he was the one who sculptured the Beatles Statue on the Pier Head.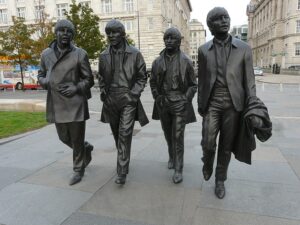 Alongside The Beatles, Mr Epstein was also a manger for Gerry and the Pacemakers, Cilla Black and Tommy Quickly.
A quote from the Epstein family has also been published on the website, where they have written: "Brian was a modest and reserved man, but as a family we are in no doubt that he, alongside his brother Clive and his parents Queenie and Harry, would have been immensely touched by the consistent efforts to pay tribute to his contribution to The Beatles and to the City of Liverpool through this statue."
The Brian Epstein statue is set to be unveiled in July this year.