A public art project is coming to Liverpool 8 to spark young Muslim peoples' interest in poetry, teaching them how to express their feelings and thoughts through words.
There will be four, free creative workshops delivered by 20 Stories High launching on March 8 from 6pm – 8.30pm on a weekly basis.
The Poets' Gift project is open to beginners and advanced creatives to explore anything from music to personal experiences that makes them feel a part of the community and safe on the streets.
The workshops will be Muslim-led to best represent the community.
Amina Atiq, is the co-producer and lead artist of the Poets' Gift project.
She is working alongside associate artist Nadia Anim, supporting the delivery of the sessions, and Muhammad Elmi, who is doing the internal engagement.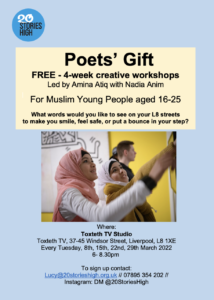 The project is aiming for two outcomes: a group poem to be published on a bus stop in Lodge Lane for four weeks, and producing individual poems that are going to go on tour in the community centres.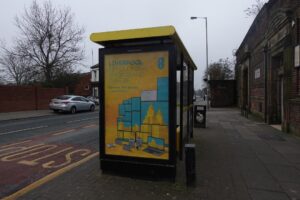 20 Stories High will include a wellbeing art consultation for the workers and the young people to help cope with potentially triggering situations.
Lush Liverpool will also be inviting the subjects for a wellbeing session to celebrate the young peoples' hard work when the project is finished.
Nadia Anim said: "This is a beneficial project for the Muslim community in Liverpool 8 as a way to not only meet other creatives in the community, but also to exchange experiences and ideas.
"The final project will increase visibility and provide the community with a platform."
The initial idea for the project came about after the terrorist attack on Liverpool Women's Hospital on November 14, 2021.
Co-artistic director of 20 Stories High, Keith Saha, and creative poet Amina Atiq concluded it was difficult to express how the incident made them feel, and realised it must have been even more difficult for the marginalised communities in the Liverpool City Region.
Merseynewslive spoke exclusively with spoken word artist and activist Amina Atiq to get insight on the inspiration behind the project, what the significance of the bus stop is to the local community, and the future for Poets' Gift:
Featured image 20 Stories High