Four ferocious dinosaurs visited Wirral's Heswall Hall at the weekend to teach children all about their anatomy and origins.
Teach Rex is a company bringing schools into 'new age education'.
The two founders of the company, Joe Parsonage and Sam Charles, worked as primary school teachers, noticing that boys weren't engaging in the classroom.
Joe said: "We wanted to do something to create young boys in writing."
With shows about dinosaurs, dragons and gorillas, they aim to educate children in a more engaging way.
In 2017, the pair bought a prop dinosaur and began taking it into primary schools. By November 2019, they had completed 200 school visits.
Now, they have more than eight prosthetic beasts, each with their own story.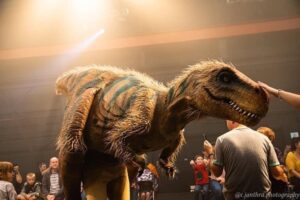 Bringing dinosaurs to life
The prosthetics come from a supplier in China, designed to match Teach Rex's dino designs perfectly.
The props work like large puppets, said Sam.
"It's like a metal cage with like a fan and a camera that you see through, it's quite high-tech," he added.
Joe told Merseynewslive: "We've got some incredible puppeteers, which bring them to life. So without them, I suppose it's just just an ordinary puppet shell."
They also have much smaller props, that are worn on the arm of the team members.
The Heswall show brought the Velocoraptors to life, interacting with the young audience.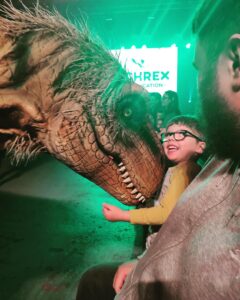 Whilst the large figures could come across as scary, the Teach Rex team focus on making the dinosaurs less intimidating, encouraging the audience to 'tickle their chins' to make friends with the creatures.
The puppeteers can be seen through the dinosaur shell but it's hard to notice once the show is in full-swing.
Joe said: "Their focus comes away from their legs because of the way they move and interact with the audience."
The prosthetics walk in life-like movements, with their tails swinging behind them, often knocking members of the audience.
Although this is not to be feared.
Joe said: "When the tails do hit you in the head, it is just like a giant foam tail. So it's not going to cause much damage, but we have seen glasses flying off."
Touring across the UK
Teach Rex carry out shows not only across the UK but internationally too, having performed in eight countries.
With over 50 sold-out UK shows and more than 20,000 children educated by Teach Rex, they're well on the way to changing the way we teach.
Whilst the team are well-seasoned in visiting venues and schools all over the UK, in the future they'd love to make Teach Rex intercontinental.
Sam said: "We've got friends like Dubai International schools in Singapore (which) we'd love to go to, especially with the gorilla."
The prop dinosaurs are over eight-foot-tall, making them difficult to transport. But the team aspires to travel to Asia with their smaller props in order to continue their inspiring work.
Sam also said: "We don't see why this can't be something that goes to various countries across the world. That's the dream."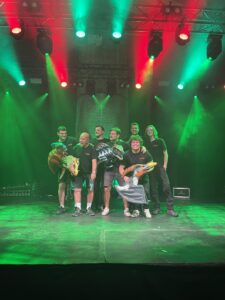 To learn more about Teach Rex, visit their website here.