Merseyside residents are being urged to keep their old electrical items out of the bin and recycle them instead.
£370m in materials like gold, copper, aluminium and steel are wasted each year due to electrical appliances that are not properly recycled.
But a Liverpool City Region campaign aims to tackle the problem of electrical waste.
Check Your Tech, which began in January, campaigns to recycle electronic and electrical equipment.
Broken toasters, old mobile phones or electrical items contain valuable materials that are lost if they're thrown away.
Councillor Tony Concepcion, Chairperson of MRWA, said: "As people continue to upgrade and replace their electronic devices, old devices are simply forgotten about, or put in household waste bins.
"This is a waste of resources that instead could be reused or recycled."
The MRWA ask Liverpool City residents to consider their appliances; if it has a battery or needs charging, it must be recycled.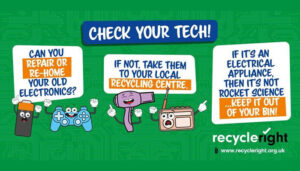 Does your tech still work or does it need to be rehomed? If the appliance is broken can it be repaired? Can the item be recycled?
Cllr Tony Concepcion urges residents to keep electrical appliances out of the bin and recycle them instead.
There are 16 Household Recycling centres across the Liverpool City Region, and you can find your nearest one here.
Homeowners need to look out for electrical equipment which contain hazardous elements such as screens, circuit boards and white goods.
These items may need an authorised disposal or recovery site, and to find out more about disposing of hazardous material, read the Government guidance here.
Read our article 7 unique ways on how to be more sustainable.