Liverpool's former St James station will have a brand new name when it reopens and everyone can help to choose it.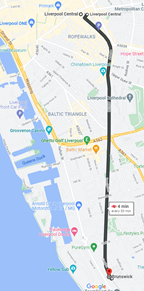 Metro Mayor Steve Rotherham has announced the options and it is now up to the public to choose from Liverpool Riverside, Liverpool Parliament Street or Liverpool Baltic.
The station is located between Liverpool Central and Brunswick station.
The former St James station is part of the Northern Line which runs from Southport to Hunts Cross.
This will benefit commuters moving around the city as the Baltic Triangle is a popular area for young professionals.
It will also be advantageous for those wanting to expand businesses in the urban space.
Andy Heath, the Managing Director of Mersey Rail explained "Our customers are at the heart of everything we do so it seems fitting that they get the opportunity to select the name of the new station."
The original site was named after a parish church in 1874 but closed down in 1917 due to cost-cutting during the war.
The new site will include amenities such as toilets, step-free access, a cycle hub and passenger drop off.
So far there have been over 2,000 responses to the poll, have your say today.
Plans are in place for the site to be reopened in 2025.