Merseyside Police have launched 'Operation Shepherd' to reduce crime and keep communities safe this Christmas.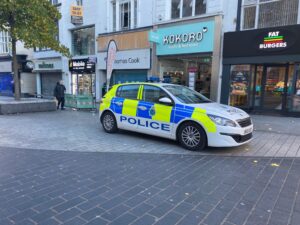 Beneath the buzz of bustling shoppers and twinkly lights in the city centre, there remains an eerie sense of worry following the two major incidents that have recently rocked Liverpool.
The Remembrance Sunday terror attack, when a taxi exploded outside Liverpool Women's Hospital was followed by the tragic death of 12-year-old Ava White at the Christmas light switch-on last Thursday.
Yesterday, a 14-year-old boy appeared in court after being charged with the murder of Ava White and possession of a bladed article. Meanwhile, investigations are still ongoing into the hospital blast.
Police presence has increased in the city centre with more uniformed and plain clothes officers. These are being supported by specialist teams including the Dog Section, Mounted Section and Air Support.
Superintendent Steve Brizell, who is leading the operation, said: "We always step-up patrols on the run up to Christmas because, historically, we have seen a rise in crimes such as burglary, robbery, domestic violence, and drink or drug driving.
He added: "It's also normal to see an increased police presence in busy locations including shopping centres, Christmas markets and other popular attractions because, as recent events have shown, the threat from terrorism has not gone away."
Following the recent terror attack, the UK terrorism threat level was raised to 'severe.' This means another incident is now judged to be 'highly likely' and could be imminent.
Speaking on twitter, Merseyside Police said: "There's no reason for alarm, we're just providing some reassurance to the public whilst at the same time acting as a deterrent to criminals. If you see us, say hello!"
Despite the police seeing no cause for concern, some students in Liverpool are feeling anxious about going out due to fear of another incident.
Iona Macpherson, a student living in the Kensington area, feels especially worried about being close to where the Remembrance Sunday terror attack happened.
She told Merseynewslive: "The day the attack happened was terrifying but later on that day I found out that houses just a few streets from where I live were being investigated and full areas were being cornered off.
"This was especially scary for me because it really was on my doorstep, you never think it's going to happen until it does."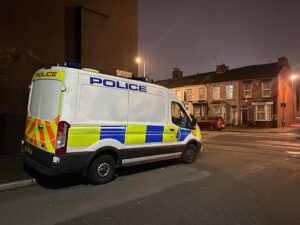 She added: "We're just lucky more people didn't get hurt."
Lauren Lee-O'Neil, a 20-year-old student said: "Obviously the last couple of weeks have been quite scary but the increase of police does calm my nerves and make me feel that bit safer."
Merseyside's Police Commissioner Emily Spurrell said: "Christmas is such a special time and Merseyside Police is committed to ensuring everyone across our region can enjoy the festive period safely.
"I welcome the launch of this wide-ranging operation aimed at ensuring those heartless individuals who would seek to carry out crimes such as burglary, robbery, fraud and violence are not able to shatter the celebrations."
For more information on how to stay safe, head to Merseyside Police website. https://www.merseyside.police.uk/