A junior football team in Tranmere have launched a fundraising appeal after their equipment shed was set alight. Destroying most of what was inside.
Merseyside Fire and Rescue were called to Victoria Colts Junior Football Club on Friday. After the container with their equipment inside had been set on fire.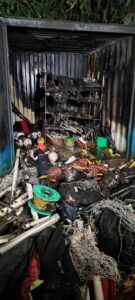 The spokesperson for the junior team said on twitter: "Devastated to wake up to the news that our storage container has been set on fire last night in the park the kids literally have nothing now."
"Reckless"
Detective Inspector Darren Taylor said: "This reckless behaviour has caused a significant amount of damage and distress to a valued community sports club.
We're determined to find those responsible. People who clearly have no concept of the awful consequences of their actions. Which could also have easily caused serious injury or worse to anyone in the vicinity."
Tranmere Rovers offer support
Nicola Palios, the owner of local league two side Tranmere Rovers, brought attention to the arson on twitter, offering help with any spare equipment the Rovers would have to donate.
🤬. I will see what @TranmereRovers can do to help. In the meantime if you have a GoFund me page we are happy to try to publicise it. I'm sure plenty ek want to help. #TRFC https://t.co/RHSjd38Drf

— Nicola Palios (@NicolaPalios) October 16, 2021
A glimmer of hope
A GoFund me page has been set-up to help the team. Trying to raise £6,000 to replace the damaged equipment. After only three days, they have received over £10,000 in donations.
Lee Gibson, the man who set-up the donation page said: "Without this equipment, it is going to be difficult for the hundreds of kids at the club to be able to host games, or even train.
"These kids range from tiny tots through to teenagers and young adults.
"We ask if you can spare whatever you can afford to help get the vital equipment needed to keep these kids playing football."
Police enquiries are still ongoing.
In an appeal for witnesses. Detective Inspector Darren Taylor said: "If you saw anyone hanging around near to the location on Friday night.
"Or captured on CCTV, dashcam or doorbell footage anyone who may have been involved, come forward and we will take action.
"Setting wheelie bins and indeed any items alight is extremely dangerous, puts pressure on the emergency services, and deeply affects those targeted."
Anyone with information can contact Merseyside Police on Twitter, Facebook or call 101 with reference 21000717818.
You can also show your support for Victoria Colts Junior Football Club by donating here.