The people of Liverpool have given the green light to the two new colourful road crossings which aim to assist in road safety.
Two new road crossings inspired by pop-art have been installed in Old Swan and Liverpool city centre to improve road safety for those who are visually impaired or suffer with neurological issues.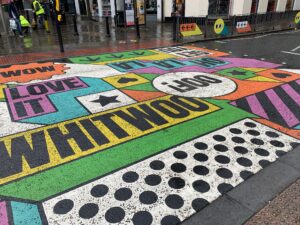 Liverpool statistically has a very high collision rate on the roads and Liverpool City Council has decided to introduce the crossings as a way to reduce collisions by making pedestrians and traffic more aware of the safe places to cross.
The designs are very bold, bright and full of colour dotted with positive messages. The artwork itself is designed by So-Mo, a creative outlet located in the Baltic Triangle.
MerseyNewsLive asked the people of Liverpool what they make of the new design at the bottom of Bold Street.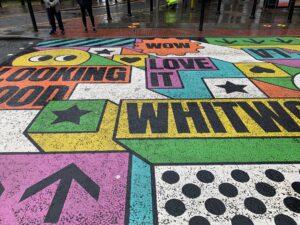 Alex McGinn, 40, expressed his positive views, saying: "I think it's a wonderful idea, not only is it for a good cause, but it brings some colour to town on grey days like these"
Joe Vauxhall, 24 agreed, saying: "It's great isn't it? Not only is it excellent for accessibility purposes. It's also raising awareness for those with disabilities."
Dave Cox, 39 was equally positive: "Have you seen some of the words? Pair that with the colours, good vibes all round."
Pat Thompson, 64 wasn't aware of the cause saying: "Is that what it's for? I had no idea, but yeah I'm definitely behind that one."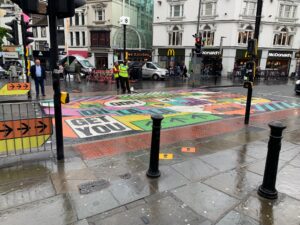 Richard Cook, 52 said: "I didn't really realise it was there to be honest with you. Is it permanent? If so, brilliant. They should put them everywhere."
Hannah Barton, 29 simply said: "I'm all for it."
The people we spoke to seem unanimous in their viewpoints on the matter, although social media is split on the subject.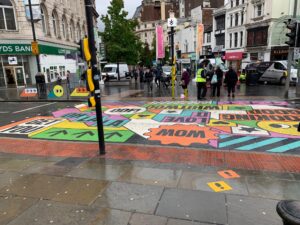 Some on Twitter have criticized the crossings though. One saying: "Bloody hell, drivers don't need anything additional to distract them from looking out for people and other road users, and the traffic signals."
Bloody hell, drivers don't need anything additional to distract them from looking out for people and other road users, and the traffic signals. That's so chaotic people won't be looking where they should. Wonder if the AI will capture that!

— Phil will do (@philip_h21) October 13, 2021
Watch our video report here: