Merseyside Police have released images to the public in an appeal to trace and locate a man who escaped from hospital.
Brett Ireson, 38, who is originally from Gloucester, is currently wanted after going missing from a hospital in Wales on October 7.
Ireson is described as being about 5ft 11, a man of large build with a receding shaved hairline.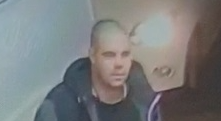 Merseyside police have reason to believe that Ireson is in the Merseyside region and must not be approached by members of the public.
Instead, police advise people to call 999 with any sightings or visit https://www.merseyside.police.uk/contact/af/contact-us/ for further details.