John W Henry has apologised to fans following Liverpool FC's withdrawal from controversial Super League, saying "I've let you down."
In a video statement released this morning (Wednesday 21), the club owner also extended his apologies to Jurgen Klopp and the players.
Henry admits full responsibility for the "unnecessary negativity" that has enveloped the city in the past 48 hours.
Liverpool and the five other English teams have all withdrawn from the Super League following significant backlash.
American owner Henry, who founded Fenway Sports Group, said:
"It goes without saying but should be said that the project put forward was never going to stand without the support of the fans.
"Again, I'm sorry and I alone am responsible for the unnecessary negativity brought forward over the past couple of days.
"It's something I won't forget and shows the power the fans have today and will rightly continue to have."
The statement came after Liverpool FC players led by captain Jordan Henderson released a collective statement on social media.
Their message read "We don't like it and don't want it to happen."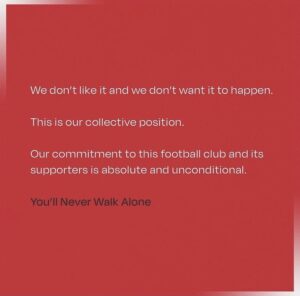 Henderson also reportedly called for a meeting of Premier League captains to discuss the ongoing Super League plans.
There has been mixed reactions to Henry's apology from Liverpool FC fans.
One fan on Youtube wrote: "It's not something that will be forgotten but I'm sure we can all appreciate that John had the respect to apologise to everyone publicly. Now we can watch as they work to earn our trust again."
However, another fan wrote on Twitter expressing anger with the owner's involvement at the club.
Ticket prices, furloughing staff, trying to trademark the city name, now this. This isn't an accident, when it comes to trying to bleed the game dry your policy is to ask for forgiveness, not permission. Not this time, it's a bridge too far. Sell up.

— Ste Davies (@StevenD1977) April 21, 2021
We will have more on this story as the day progresses.
For more sports news, click here.
Featured image by Kitty Cooper.