A Fazakerley man's fundraising challenge to raise £10,000 is well on its way to achieving its goal after just five months.
Jordan Grierson, a Pension Analyst, launched the Scouse Fundraiser in December 2020 to raise money for local charities that tackle poverty and it has already topped the £9,000 mark.
After the pandemic highlighted to Jordan the significant gap between the rich and poor and the extent of child poverty, he decided to take action.
Jordan said: ''I set up the Scouse Fundraiser just over five months ago now because I realised that moaning about how the government doesn't care about people isn't going to do anything.
''So, I decided I was going to try and do something about it. I was going to take action.
''It was either to stop going on about it or do something about it.
''I chose the latter.''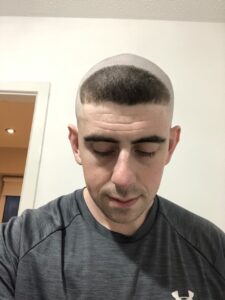 The main aims of the Scouse Fundraiser are:
To raise as much money as possible to help as many people as possible
To raise awareness for good causes in Liverpool
To inspire people to help others
To raise awareness for social and political issues which Jordan believes are destroying the country
So far, Jordan, with the help of his team which includes Chris, Murph, and Jamie, have raised just over £9,000.
The Scouse Fundraiser has donated to various different charities across the city.
They donated fruit and veg to L6 Centre, L30 Centre and the Big Help Project.
For the Christmas appeal they donated all sorts of toys, selections boxes, books, food and various other things to numerous charities such as: Ykids Bootle, YPAS, Alder Hey, Zoe's Place, New Beginnings Improving Lives, Liverpool Homeless FC, Kirkdale Boxing Club, Toxteth Unity Youth Centre, Shrewsbury House, Liverpool Cares, Micah Liverpool, Mr Old Hall Street Kitchen, Whitechapel Centre and Walton Youth and Community Project.
Jordan is also currently working very closely with HelpFinder and the last donation made was a whole host of non-perishable food and cooking equipment to them.
The 28-year-old said: ''I'd seen all kinds of statistics around child poverty and videos of food bank queues and it knocked me sick to the stomach to think in one of the richest countries in the world, we have millions of people who have to resort to using food banks to feed themselves and their families.
''In this city we did not vote for this government, so these austerity policies are no fault of our own.
''I firmly believe that austerity policies put in place by the government over the last ten years have caused the rising usage of food banks and rising number of children living in poverty.
''A report from the Child Poverty Action Group found that if the two-child policy was removed, then straight away 200,000 children would be living in less deep poverty.
''This is why it is my opinion that poverty is a policy this government is happy to enforce, they are happy to continue to give to the elite and take from the poor.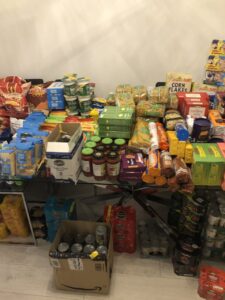 ''A lot of the poverty issues we face as a country could be eradicated if we simply had a government who cared – take homelessness for example.''
Jordan was inspired to push himself out of his comfort zone and start the Scouse Fundraiser after seeing several people on Instagram 'doing incredible things to help people.'
The Scouse Fundraiser has included a variety of challenges.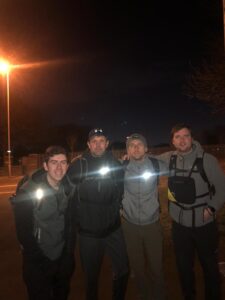 Jordan said: ''The first and most embarrassing challenge I have done was the Ronaldo 2002 haircut, this didn't go down too well with my girlfriend, but it showed everyone that I was serious about this whole thing.''
The first group activity for the Scouse Fundraiser team was a 'Sleep Out' which consisted of seven of them sleeping rough in Bootle FC stadium, which Jordan described as 'a very eye-opening experience.'
The challenge that received the most money (£5,123) was the 100,000 steps fundraiser that Jordan, Murph, Chris, and Jamie walked at the end of February for the fruit and veg appeal.
Other challenges have included a leg wax, a variety of long walks, a 36-hour fast and a press-up challenge which consisted of Jordan performing nine press ups on the hour, every hour, for thirty hours straight, with the last set being performed in his local Co-op.
Jordan has a whole host of fundraising ideas lined up in the future to raise even more funds.
He said: ''The support has been absolutely incredible.
"Prior to starting the Scouse Fundraiser, I never would have believed that complete strangers would be so willing to help me.
''It's been amazing seeing everyone come together to help those in need.
''I'm constantly getting messages of support and people just asking me how they can help.''
The Scouse Fundraiser documents everything on Instagram, including everything purchased with any money raised.
To follow the Scouse Fundraiser's Instagram and find out more about the fundraising events, you can visit here.