St Helens police seized a large number of cannabis plants and weapons following two proactive searches.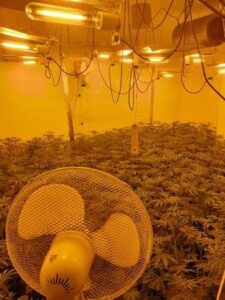 Officers visited a property on Shaw Street on Wednesday at around 2:30pm following reports the residents were involved in drug crime. A large cannabis farm with around 100 cannabis plants was found in two bedrooms in the property.
An 18-year-old man was found in the upstairs bathroom and was arrested for cultivation of cannabis and extracting electricity.
Following this, officers seized weapons and drugs from a Haydock property early Thursday morning.
Officers visited a house on Manor Road at around 3:00am following reports of stolen vehicles near the property.
Following a search of the house police seized cannabis, nitrous oxide cannisters and a number of weapons. Police also seized two cars and an off-road scrambler bike after suspecting them to be stolen.
Four men were detained by officers and are assisting the ongoing investigation.
Inspector Rob Budden said: "Our proactive patrols are key in finding those involved in criminal activity."
"Taking drugs and weapons off our streets is crucial in saving lives and I would urge anyone with information to do the right thing and report it to us so we can investigate."