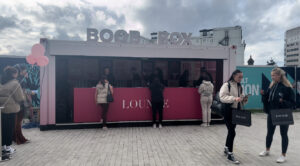 The Boob Box is an initiative by lingerie brand Lounge Underwear to spread awareness about the health and wellbeing of your breasts.
The Boob Box is currently touring the UK and pulling up at universities, offering free thongs once you have donated a minimum of £1.
The money raised is donated by Lounge to smaller cancer awareness charities. "We make sure it all goes towards breast cancer awareness, it doesn't pay salaries like it would if it went to bigger charities," says Cam Healey, head of events at Lounge Underwear.
Recently, the Boob Box came to Liverpool John Moores University. "Liverpool is our best one, numbers-wise. But every single one we've had, we've sold out completely. That's 2500 pairs of thongs," Cam added.
The Boob Box has also visited other UK universities including Cardiff Metropolitan and De Montfort.
Watch Ruby Smith's video report here:
Feature photo (c) Ruby Smith