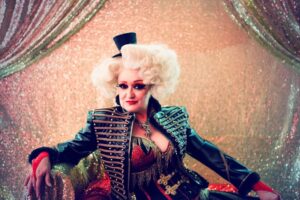 This month Liverpool-based disability and deaf arts organization DaDa will be putting together three distinct events to showcase art made by deaf, neuro-divergent and disabled people.
The three events will include a comedic play which deals with the trials and tribulations of endometritis, a night of captivating cabaret and finally a social justice lecture on World Disability day.
On Thursday November 23, the Unity Theatre will premiere "Toilet Paper Diaries", written and performed by DaDa fellow Porcelain Delaney and commissioned as a joint venture between DaDa and Manchester Independents.
The play deals with all the trials and tribulations of having endometritis and highlights the medical gaslighting that can sometimes take place.
The following day at the same theatre is the return of the DaDa Cabaret, which will showcase a wide variety of acts from the deaf, disabled and neuro-divergent community. Performers include the poets John Cooper Snark and Shaun Fallows, comedians Lizzy Lenco and Eden MW, and singer Miss Sunny Sarah will host a cabaret performance.
All events will be priced at £5 and can be purchased from the Unity Theatre website.
All events will also have a BSL translator on hand.
In addition to the entertainment events there will also be the "Edward Rushton Social Justice Lecture" taking place at the Liverpool Museum on world disability day, Sunday December 2.
Every year the talk highlights social and political issues affecting the disabled community. This year's lecture by Ashokkumar D Mistry will explore the topic "reclaiming nonchalance the value of disabled lives".
This aims to look at the way society views the value of disabled adults and children. Ashokkumar will be joined by panelists Kai Syng Tan, Sonia Bou, and Dr Linzi Stauvers. Admission to the talk is free and can be booked on the organisation's website.
Rachel Rogers and Ngozi Ugochukwu for DaDa said: "We are delighted to be back with an exciting and challenging programme of events this winter, which hopefully has something for everyone and will get people thinking.
"We are thankful to continue working with our venue partners, Unity Theatre and Museum of Liverpool and to collaborate with Disability Arts Online and Manchester Independents to enable us to host part of the programme, as well all our funders, who we couldn't be here without."
Featured image (c) DaDa