Reporting team: Cassie Ward, Jake Hughes and Kieron Day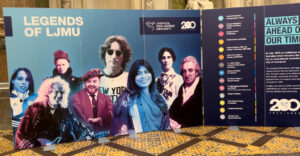 Liverpool John Moores University welcomed 10 new honorary fellows in its Bicentenary year at a special event at St George's Hall yesterday.
The new fellows are being recognised in LJMU's 200th year for their inspirational achievements and role model status in the wider community.
The ten new individuals are now added to more than 300 members of the LJMU community who have been awarded an honorary fellowship from the university.
The event was hosted by LJMU Chancellor Nisha Katona and Vice-Chancellor Prof Mark Power.
Prof Power said: "The new fellows already support what we do at LJMU in different ways, and I'm thrilled that they are all strengthening their ties to the University by becoming honorary fellows.
"Each of these 10 remarkable people shares LJMU's firm commitment to making a positive difference to our communities and to wider society."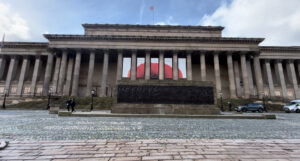 Andy Cooke QPM DL, HM chief Inspector of Constabulary and HM Chief Inspector of Fire and Rescue Services, has an illustrious career in policing. In 2022 was appointed HM Chief Inspector of Constabulary and HM Chief Inspector of Fire and Rescue Services.
After graduating with a degree in politics, he joined Merseyside Police in 1985 and went on to serve as a detective at every rank.
He was chosen as a Bicentenary honorary fellow for his outstanding achievements and the positive impact of his leadership in policing both locally and nationally.
Mr Cooke told MerseyNewsLive: "I've been associated with the University for a long time in my pervious role as Chief Constable for Merseyside Police.
"We had a lot of really good interactions with the university, obviously we do a lot of the policing studies here, good links with forensics.
"it's always been a pleasure to be involved with LJMU, I was very proud when LJMU made me a professor a couple of years ago too when I became Her Majesty's Chief Inspector of Constabulary so that link has been a very strong link, and anything that I can do to help the university I am always very keen to do so."
Ngunan Adamu, BBC journalist and broadcaster, is a well-known Scouse voice across the city from her work with BBC radio and podcasting.
She is a journalism graduate of the Liverpool Screen School and has been chosen as a Bicentenary honorary fellow for not just her broadcasting prowess but for her work supporting the voices of under-served communities and driving forwards cultural change across society.
It's about inspiring the next generation.
Ngunan works closely with LJMU to support its own initiatives that are driving forwards positive change in higher education.
She said: "I'm still in shock that my name was even considered as an honorary fellow. I think you go through life just doing what you love to do.
"I am passionate about journalism, people, women, communities, I'm passionate about anything '-isms' that I want to fight against – that's me.
"You don't do things waiting for accolade, so I was still shocked when my name was on the list. It's about inspiring the next generation.
"I want young women, especially black women as well to look and think, 'I can be Scouse', 'I can have an accent', 'I can wear red lipstick' and still be unique and achieve.
"This isn't about me – it is about the next generation who aspire to be at my level or way above my level.''
Nikita Parris is a professional footballer and was a member of the triumphant England Women's football squad that won the 2022 UEFA Women's Championships.
She made her debut for Everton aged just 16 and won the first of her 71 England caps in 2017. As well as winning Euro 2022, she also represented Team GB at the Tokyo Olympic Games in 2020.
Nikita was chosen as one of the Bicentenary honorary fellows for her commitment to excellence in her sport and her work to encourage recognition and development of women in professional football and young athletes.
She told MerseyNewsLive: "For me it's a great honour. I came to LJMU many years back now, as a sports science student to begin with, but it didn't actually quite marry up with my football schedule which was the first year I became a professional football player for Manchester City.
"Then I went to Sports Development and Policies and that married up with my football schedule and I'm so thankful to LJMU for helping me.
"It was a hard time for me to figure out how to mix football and education but it kind of worked out."
The Fellows were presented by officers from JMSU, the LJMU students' union. You can find out more about LJMU'S honorary fellows here: https://www.ljmu.ac.uk/about-us/fellows
Listen here for exclusive interviews with three of the honorary LJMU fellows:
The new fellows are:
Nikita Parris: professional footballer with England and Manchester United,
Ngunan Adamu: BBC Radio Merseyside Journalist,
Bryan Biggs: Director of Cultural Legacies at the Bluecoat and LJMU alumn,
Andy Cooke QPM DL: HM Chief Inspector of Constabulary and HM Chief Inspector of Fire and Rescue Services,
Professor Joe Rafferty CBE: Chief Executive of Mersey Care,
Trish Bennett: Deputy Chief Executive of Alder Hey Children's NHSFT,
Louise Shepherd CBE: Civil Engineering Senior Project Manager, Environment Agency and LJMU alum,
Louisa Flitter, Civil Engineering Senior Project Manager, Environment Agency and LJMU alum,
Her Honour Judge Sarah Wright: Circuit Judge, Sheffield Combined Court and LJMU alum,
Jamie Christon DL: Chief Executive of Chester Zoo.
Featured image (c) LJMU